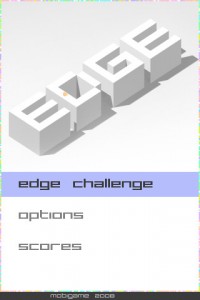 The multi-award winning game Edge [$.99] by Mobigame returns to the App Store again, in the U.S. and United Kingdom. If you haven't heard by now, there has been an ongoing legal battle over a trademark dispute on the name "Edge". Resulting in the game being pulled off the App Store multiple times and being resubmitted with different names like EDGE, EDGY, and Edge by Mobigame. Well it looks like the battle is over, as the game has reappeared and Mobigame says:
Thanks to us the word "edge" is now free to exist on the App Store like on any other marketplace, and games like Mirror's Edge, Shadow Edge, Killer Edge Racing or Edge by Mobigame can live on our iDevices.
Edge is a game where you are in control of a colorful cube that you must guide through multiple 3D isometric mazes, packed with puzzles to solve and challenges to overcome. With the choice of touch or accelerometer controls, as you can see in the video, the game requires quick thinking and skill to make your way through all the mazes.
Overall, Edge is a great game that we thoroughly enjoyed playing and recommend that you pick it up. Especially since, the game is on sale this weekend to celebrate its return to the App Store once again. Normally $4.99, the game is currently only $.99, so now is a better time than ever to pick up this excellent game. And hopefully Edge is here to stay for good.
App Store Link: Edge, $.99