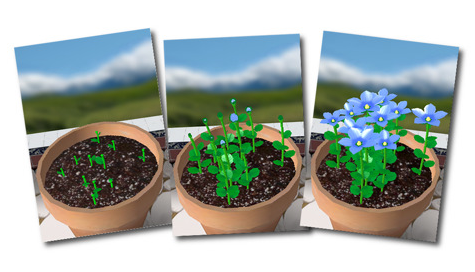 Last year we took a look at Flower Garden [App Store] from Snappy Touch, the virtual flower garden for your iPhone or iPad (it's a universal app). And while it's more of a simulation / eToy / work of eArt than a game, we found it to be something special. For Mothers' Day weekend, author Noel Llopis is making the game available for free download through the App Store. Why send dear ole' Mom a physical bouquet when you can put a Flower Garden in her pocket?
In Flower Garden, you can plant different types of seeds, water them and watch them bloom. Some flowers bloom immediately, while others may take some care over time. Once you have a collection of flowers, you can even cut them and send them to your friends in an electronic bouquet. There's no real goal to Flower Garden, though there are various seeds you can unlock as you grow more flowers.
We've had the pleasure of meeting up with the game's author Noel Llopis at several West Coast iPhone-related events and are impressed by the maintenance he's given the app; in the past year there have been 12 updates in all. It's a fun little app to spend time with. Those who like what they're hearing and who enjoy the pitter-patter of little feet about their home might want to have a look at Noel's spinoff title, Lorax Garden [App Store] — Flower Garden with the Dr. Seuss touch.
App Store Link: Flower Garden, Free (weekend sale)