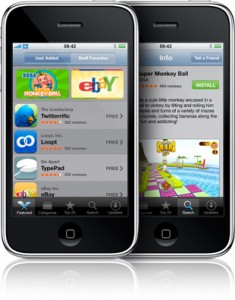 It seems any holiday is an excuse for developers to hold a sale. For Valentine's weekend, here are some notable titles that have temporarily dropped in price.
Free
Paper Airplane ($0.99 -> Free) – forum thread
Prohibition 3: Candy Wars ($1.99 -> Free) – from former Newton developer Catamount software. Candy wars is the App Store friendly version of Dope Wars. Unfortunately Dope Wars was rejected by Apple, so instead of selling cocaine, you're selling sour tarts. Basic game is the same. And free for now.
Sky Thunder ($1.99 -> Free) – A vertical shoot'em up.
$0.99
$1.99 and Up