In going through our backlog of new iPhone games, I've run across two relatively new Audio-based memory games that take the traditional "Match" or "Memory" games and replace the usual visual tiles with audio clips.
The first one I ran across was Mozart 1791 [App Store], a $1.99 game in which clips of Mozart's Requiem are played when you tap on any of the tiles. You goal is to match the two tiles with the same clip to eliminate them from the board. While an interesting idea, the game itself was rather limited with only 4 levels. The payoff in the end is simply unlocking the ability to listen to the whole Requiem and also reading some of Mozart's letters. In the end, not a game we'd recommend unless you happen to be a huge fan of Mozart's Requiem. But that brings us to the next find, which is more a full game.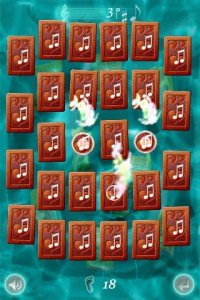 Melody Match [App Store, $3.99] takes this concept and implements a full game behind it. Instead of just Mozart, the game uses musical instruments, sound effects, as well as clips from popular music today (including Hip-hop, pop, alternative rock, folk, and country). GameVision Mobile will have to forgive my doubts, but I'd be surprised if all the audio clips were officially licensed from the artists/studios. Regardless, features include:
Four modes including Arcade, Freeplay, Record, and Speakout.
50 levels and over 300 diverse sounds.
8 different style cards and 19 categories including the best of Hip-hop, pop, alternative rock, folk, country, and even sound effects such as animal calls and sounds in nature.
A replay option along with your favorite themes in Freeplay mode.
A record option, where your own sounds and beats allow you to personalize your game.
An encode option that allows you to encode a sentence in SpeakOut mode, while allowing you to test your friend's Melody Match skills to unscramble your code.
I suppose the game is "polished" though they seem to have taken this to an unnecessary level complete with Koi Pond-like water effects throughout the game and menu system. The developers also provide this somewhat boring gameplay video, though the actual game is more entertaining:
Skip to 1 minute 10 seconds to see actual gameplay, or just download the lite version which is also available for free. The Lite version contains 9 levels.
App Store Link: Melody Match, $3.99, Melody Match Lite, Free