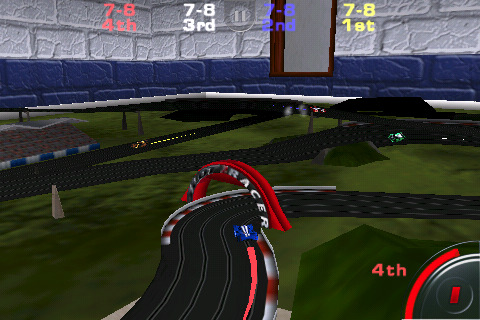 Freeverse released a major update to their SlotZ Racer game [App Store, $2.99]
Major new features in version 1.1 include:
New Track Manager page. Email custom designed tracks to friends, as well as send tracks directly over wifi.
Scenery editing: Spruce up your track designs with grandstands, hills, bridges, tunnels, gravel traps; Grass and Dirt baseboard textures added.
5 new camera modes: plan view, helicopter view, 2 new moving views and driver view.
Shake feature. In any menu, shake to return to the main menu. In the main menu, shake to start a quick race. In the editor, shake to undo.
CPU Oops factor added. Adjust how often the computer players make mistakes and fall off the track.
4 New cars: CitruZ, TypeZ Drift, Mulsane and the Vontara XT.
New "Strict" championship option. When set, doesn't allow players to restart individual races during a championship. Trophies won in strict mode unlock new car types.
4 bridge heights for serious multi-story fun.
Several of the new features are shown in this video:
Forum users are already trading tracks in our forums. A number of other minor additions also also detailed in their press release.
SlotZ RaceR has been very well received amongst the TouchArcade community and comes highly recommended.
App Store Link: SlotZ Racer, $2.99