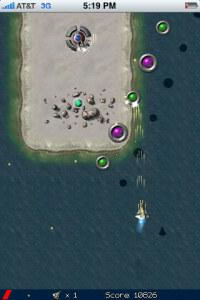 MindTrick Software USA has recently released Sentry Alpha [App Store], a new 2D scrolling shooter for the iPhone and iPod touch.
As the developer describes it, Sentry Alpha is "a nonstop battle through seas, deserts, snow, and mountains against hordes of relentless aliens."  It's a vertical scrolling shooter featuring varying environment backdrops that's rather reminiscent of the classic arcade shooter Xevious.  The game features accelerometer control and two fire modes: a standard mode where a touch anywhere on the screen fires and an autofire mode where a touch to the screen casues the player's ship to fire harder, as it were.  Additionally missiles and bombs are deployed by jerking the iPhone in particular directions (which is a little awkward when the screen is crowded with alien enemies).
Features as listed by MindTrick:
Uses the iPhone and iPod Touch accelerometer for easy, 1-handed play
Large variety of small, large, slow, fast, and heavily armed enemies
Fast, smooth animation with antialiased graphics
Almost unlimited powerups allow you to dominate
7 large, varied levels, 3 difficulty settings
Quality, professionally produced music tracks and sound effects
Suspend/Resume feature allows you to pick up from the last level completed
High scores list
Sentry Alpha feels somewhat slow-paced, which was concerning at first, until it became clear that the onscreen action ramps up notably as the game progresses.  It's something akin to the feel of the Amiga / Atari ST classic Xenon 2–slow-paced but hectic, if that makes sense.
Have a look at our brief gameplay video to get a better idea of what I'm talking about.
Although, admittedly I've not yet become a high score king in this game, I do find Sentry Alpha to be an enjoyable iPhone shooter.  Xevious fans, in particular, will find Sentry Alpha to their liking.
Game Details

Name:

Sentry Alpha (v1.1)

Price:

$2.99 [Buy]

Developer:

MindTrick Software USA


Size:

4.5 MB

Device:

Tested on iPhone 3G
Sentry Alpha is a vertical scrolling shooter reminiscent of the arcade classic Xevious.  It's somewhat slow paced, but the onscreen action is not sparse.  It's an enjoyable iPhone shooter.