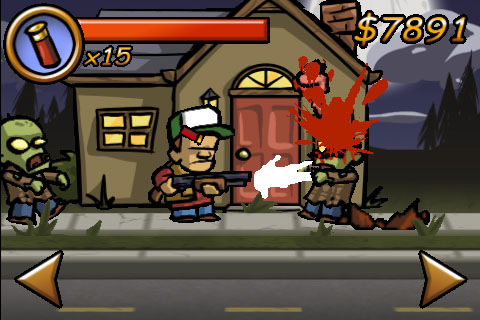 MikaMobile's first iPhone game was released into the App Store today and should appeal to zombie-fanatics everywhere. Zombieville USA [App Store] is a simple but nicely illustrated survival shooter in which you must defend your town from zombies.
As the lone survivor of a zombie apocalypse, it's up to you to battle legions of the undead in a never ending fight for survival! How long can you hold out? Scrounge for cash and ammunition, and buy up to 15 upgradeable weapons as your inevitable doom closes in around you…
The developer says he was influenced by both Castle Crashers and Alien Hominid.
The game is a deceptively simple survival shooter in which you must kill as many zombies as possible with your limited ammo and weapons. Jumping into houses will protect you from the zombies for a little while but in the end you need to make it to the end of the level to progress. Cash and ammo can be accumulated in houses and killing zombies will also increase your cash reserve. Cash can later be used to buy weapon upgrades between levels.
While the game's mechanic stays the same throughout, there is a bit more depth than first apparent. Judicious use of your ammo is critical to avoid being overcome by zombies. I'm still struggling the find the right balance between shooting more zombies (earning more cash, using more ammo) vs making my way through the level (longer survival, less cash for upgrades) but very much enjoying the challenge.
Controls are left/right buttons to move, tap bottom to shoot, and tap on door to enter house.
There have been a few scattered reports of instability, but I personally had no issues when played on a 1st gen iPhone.
App Store Link: Zombieville USA, $2.99