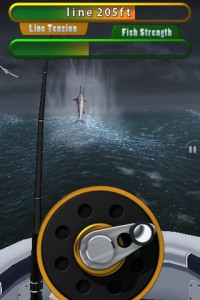 Freeverse has released their Flick Fishing [App Store] game price at only $0.99 for a limited time.
Cast the line with a just a flick of your wrist. With a skillful combination of bait, location, and technique you'll hook a fish — now you just need to reel it in! Reel carefully to avoid snapping the line and losing your fish. Larger fish are strong, and won't be hauled in easily!

With 6 fishing locations, 9 types of bait and tackle, 12 tournaments and dozens of unique species of fish, Flick Fishing is an unrivaled fishing simulation, and just plain fun. Includes the ability to play against your friends with Network and Hotseat play! Show off your latest catch via email using the "Brag" feature.
We previously looked at a gameplay video from a beta version of the game.
App Store Link: Flick Fishing, $0.99