Category Archives:
Castle Defense
We first checked out Liv Games over a year ago with Legendary Wars [$0.99 / HD], a great take on castle defense. Now the developers are back with Monster Wars [$0.99], the latest addition to the genre. Billed as a 'follow-up' to their previous game, Monster Wars succeeds at preserving the same great gameplay of its predecessor while tweaking elements and offering a new story complete with a load of new units...
When I hit up the Sega preview event this past Tuesday, there was definitely a running theme. Held at the Kabuki hotel in San Francisco's Japantown, there was an overwhelming amount of Asian decor in the lounge Sega had reserved as well as a delicious spread of gourmet sushi, pork buns, and veggie spring rolls. It turns out that this choice of venue by Sega was deliberate and fitting, as the main title they were showcasing at this event is a game called Samurai Bloodshow [$1.99]...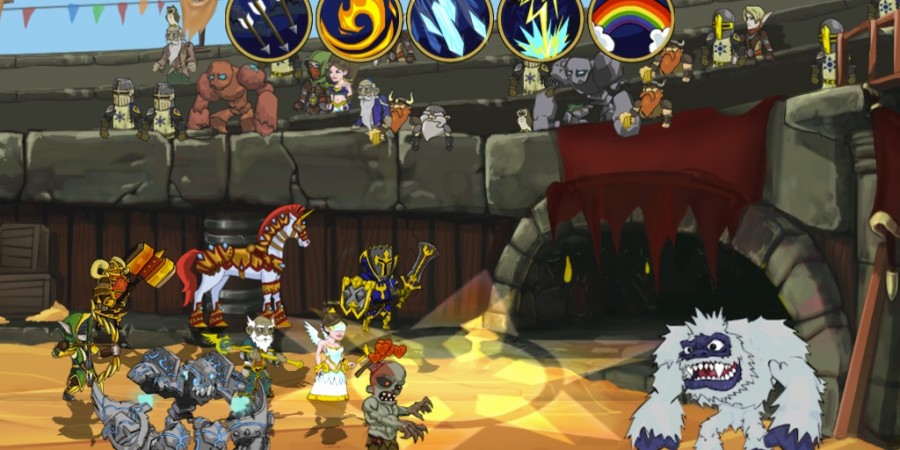 Following their successful co-release of Zen Wars [99¢] a couple weeks back, Liv Games put their noses to the grindstone to finish up a humongous update that's been over 3 months in the making for their previous iOS title Legendary Wars [99¢/Lite/HD]. We certainly enjoyed Legendary Wars in our original review, but the game has been updated fairly regularly since its release in January and now includes all sorts of nifty new features like Retina Display support, Game Center, a native iPad version, and tons of gameplay tweaks and enhancements...
The cliché that nothing good in life is free can be especially true when it comes to to iOS games. Sure, every once in a while you stumble across a truly great free title, but there almost always is a catch. In the case of Ponos' Ballistik Wars [Free], the catch is simple: it's ad-supported. For 99¢ you can get rid of the ads, and you'll want to, because they take up an annoyingly large amount of screen real estate...
Last month, Backflip Studios unleashed Army of Darkness Defense [Free/HD] into the App Store. Based on the campy B-movie Army of Darkness, a particularly popular entry in the cult classic Evil Dead franchise, the video game incarnation is a castle defense game with some very light RPG elements. The castle defense premise plays perfectly into the movie plot itself, and Army of Darkness Defense is filled with plenty of fan service...
When it comes to campy, over-the-top horror movies that should theoretically make good games, nothing really tops Army of Darkness. Despite its seemingly perfect fit, its cult following and its pedigree, there have been very few games based on the Evil Dead universe. Thankfully, Backflip Studios took on Army of Darkness: Defense [99¢ / HD] with their own spin on the castle defense genre slapped with a thick layer of fan-service paint...
Gobtron [$1.99] from Juicy Beast Studio started out as a Flash game a few years ago, and last week an iOS port made its way into the App Store. Gobtron is a type of castle defense game where you play as a gigantic pink monster who must fend off puny human attackers throughout 5 ages of history. The interesting thing is how the Gobtron goes about defending himself, primarily using a string of snot from his nose but also utilizing other bodily functions for additional attack types. It's a bit on the gross side but done in a lighthearted way, and Gobtron actually offers some pretty fun gameplay with its unique control mechanics and weapon upgrade system...
Right smack in the middle of Macworld this past January, Liv Games released their first iOS title called Legendary Wars [99¢/Lite]. It's a castle defense game similar to a plethora of other titles available in the App Store, but Legendary Wars made some smart design decisions that set itself apart from the rest. There are 3 different lanes to manage, which adds a layer of depth to the landscape as you send troops towards the enemy castle or deal with oncoming attacks. There are also a staggering number of different game types that afford a ton of variety to the gameplay. A full armory and upgrade system motivates you to keep on playing just one more game as you power up your offensive squad...
Early last month we took a look at Bug Heroes [$1.99], a dual stick shooter of sorts that borrows gameplay elements from many different genres. In the game, you play as one of three bugs, each with their own strengths and weaknesses. You must switch between them to protect your pile of food, and dish out punishment to the invaders looking to steal it. We went in to detail in our review:..
Just two days after we took a hands-on look at ARDefender from developer Int13, the game has now become available in the App Store as of this morning. What is a nice surprise is that the game has launched for just 99¢. In ARDefender, you'll print out a special PDF image from ARDefender.com that is read by the software and creates a 3D tower in the real-life space of the iOS device camera's view. Enemies then attack the tower from all angles, and you fend them off with a weapon placed on top of the tower. You'll have a machine gun, rockets, and a laser at your disposal as you take on the endless waves of increasingly difficult enemies...
Vikings are widely considered a gruff and fearsome group, but what many people may not know is that they have a softer side as well. This has never been more readily apparent than it is in the game Axe in Face [99¢] from Blue Carrot Games. The Norse gardener Red Beard, when he's not looting and pillaging, likes to tend to his beautiful plot of yellow daffodils. His fellow Viking peers apparently don't share this appreciation of fine horticulture and will brazenly trample through Red Beard's garden, crushing the delicate flowers beneath their feet. This enrages Red Beard, and he deals with it in typical Viking fashion – by throwing an axe at the offenders and lopping off their heads...