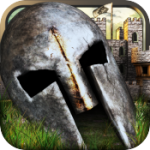 Foursaken Media's Heroes and Castles ($1.99) is a castle defense style game that also lets you jump right into the action yourself and beat the snot out of some bad guys from a third-person perspective. It's a more hands-on approach than your typical defense title, but still takes all the strategy and planning that's a hallmark of the genre. Basically, Heroes and Castles is awesome.
If you have yet to experience the game yourself yet, Foursaken has released a new free version called Heroes and Castles Free (Free) which essentially gives you the entire game, including all online multiplayer functionality, without dropping a single dime.
Here's how it works. The regular paid version of Heroes and Castles comes with three playable hero types unlocked from the start, with three additional heroes available to unlock using the premium in-game currency, which is earned through play or bought as IAP. This version also costs two bucks right out of the gate.
Heroes and Castles Free is the same as the paid game in every way but one: rather than having all three starter characters unlocked from the start, you'll choose just one of those three to unlock as your starter character, and the remaining 5 characters are all unlocked using the same premium currency setup as the paid game.
So if you're alright with only unlocking a single character at a time, you can get in on the fun of Heroes and Castles totally for free. In my own experience, I've been plenty busy working my way through the campaign with just a single character type anyway. Each character is incredibly different from one another and requires learning their different strategies and nuances. For the time being I'm content sticking with my Knight, and by the time I get around to wanting to explore another character I should have stockpiled a good amount of currency anyway.
If you were on the fence about Heroes and Castles then you should jump all over this free version. I wasn't sure about it at first myself, as I'm not usually big on castle defense games, but about ten minutes in and I was hooked. It really is a game that needs to be experienced to be appreciated, and now it won't cost you anything to check it out firsthand.