Physical releases are a big part of the Nintendo Switch for collectors. Many handheld collectors have slowly been moving from platforms like the 3DS and PS Vita to the Nintendo Switch for their collecting needs. It is pretty well known that most smaller games sell more at retail on Nintendo Switch. Even Limited Run Games (one of the best publishers of physical releases on PlayStation and Nintendo platforms) sees more sales on Nintendo Switch and often has open pre-orders only on Nintendo Switch while PS4 gets a small limited print run. For the SwitchArcade Best of 2019, I'm bringing you the top 5 physical releases on Nintendo Switch in 2019 and a bonus.
Salt & Sanctuary: Drowned Tome Edition
(Leadman Games)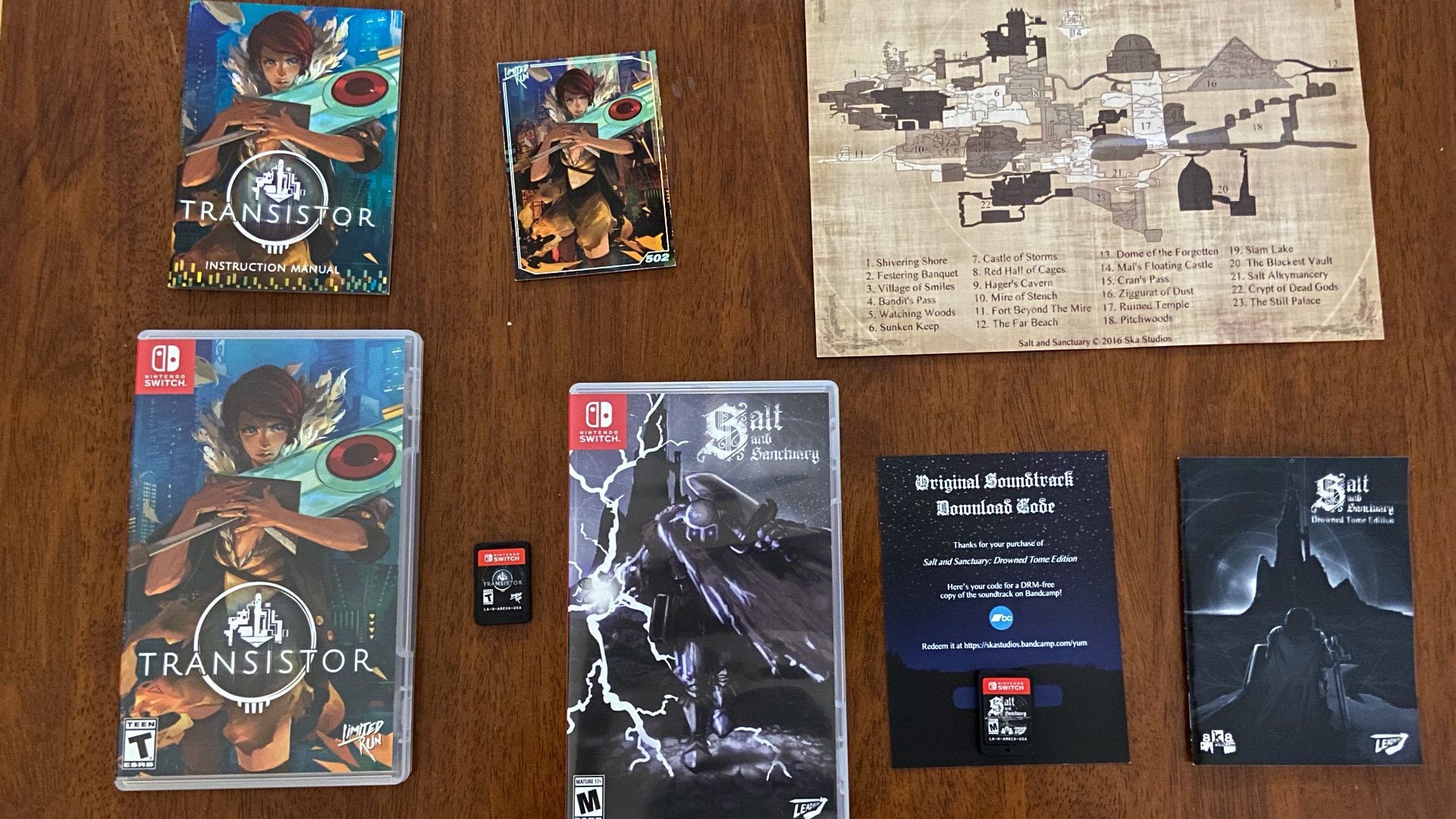 Yes, I know this released in December 2018 but we are going to let that slip because the physical release is that damn good. While Salt and Sanctuary is already a must play game on any system, the Switch physical edition includes a double sided poster, adventurer's manual, and a code for the original soundtrack. This is all including the game on cartridge. As of now, this is the only physical release of the game available and it is absolutely worth an inclusion in your collection. I adore this game and literally bought 2 copies of it for my collection.
The Witcher 3: Wild Hunt – Complete Edition
(CD Projekt Red)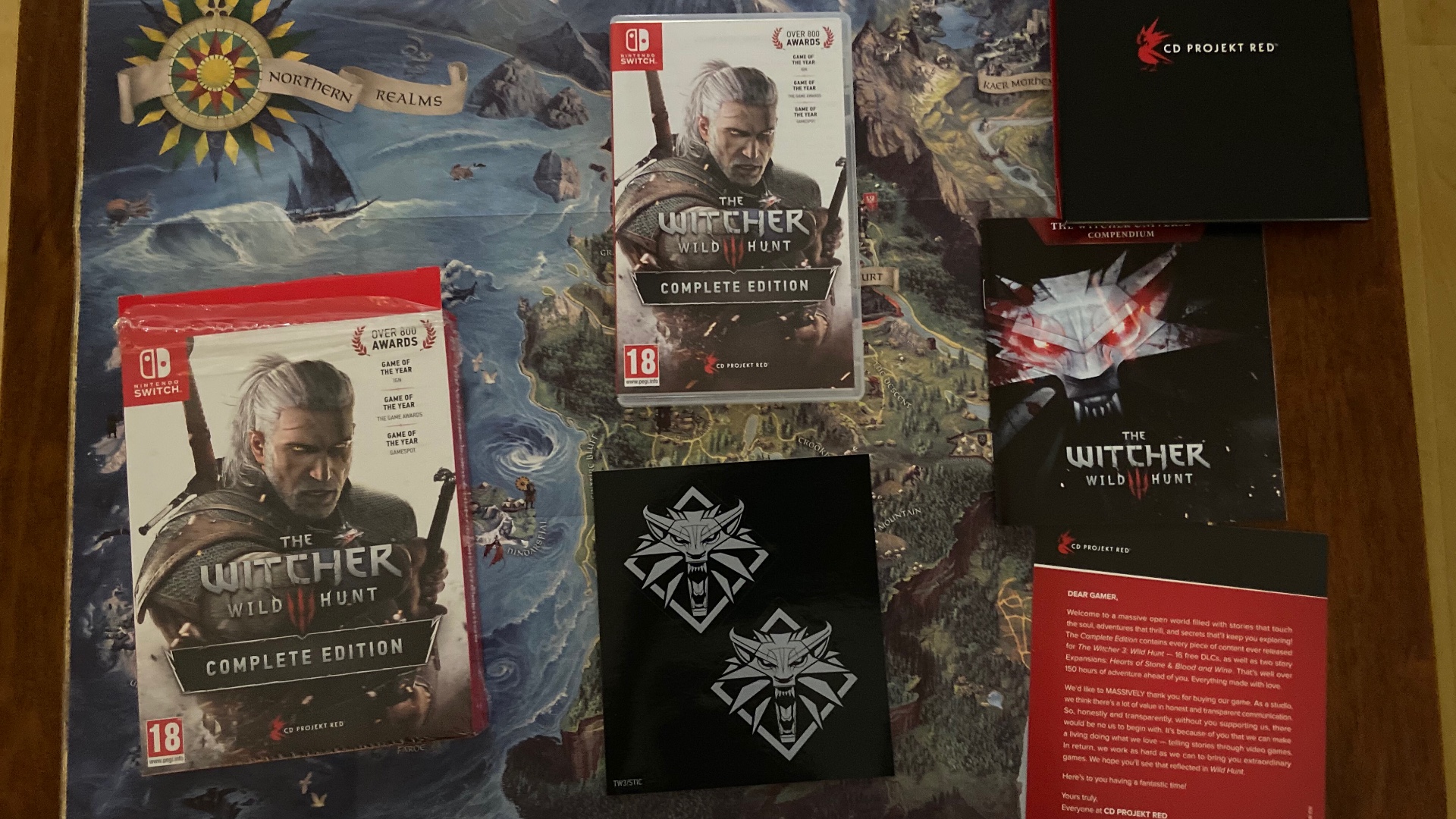 If you remember the original Nintendo Switch reveal video, Skyrim was pretty heavily featured. A lot of people unfamiliar with Skyrim thought it was The Witcher 3. Skyrim, being a last generation game, was a much easier port and basically no one really thought The Witcher 3 could run on Switch. CD Projekt Red went above and beyond for the port with Saber Interactive. Not only did we get a fully functional release with all DLC included, but they shelled out extra (Switch cartridge manufacturing is multiple times more expensive than blu-rays) for a 32 GB game card to ensure the whole game and all DLC is on cartridge. Most big publishers cheap out and just include under 8 GB on cartridge and force you into downloading the rest of the game. In addition to that, you get a compendium (booklet), some stickers, a map, and a thank you note. All of this is housed in a cardboard outer sleeve. This is by far one of the best full priced AAA releases ever on Switch.
My Friend Pedro
(Nighthawk Interactive)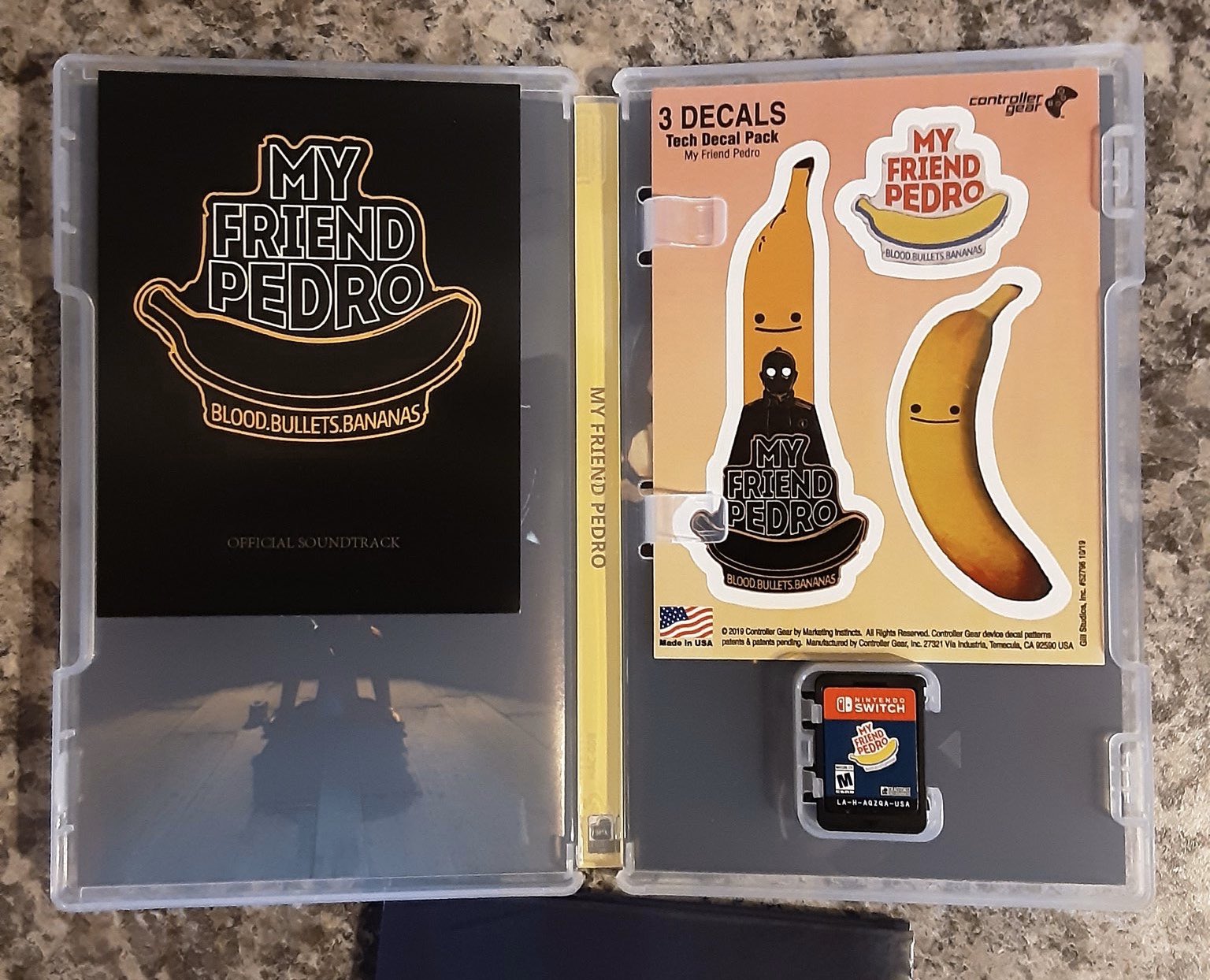 My Friend Pedro from DeadToast Entertainment and Devolver Digital is a fantastic game that released a while ago digitally on PC and Switch. This year, it got a physical release through Nighthawk Interactive. Shaun actually reviewed the retail release on SwitchArcade. In addition to the game cartridge, this release includes a reversible cover, stickers, a fold out poster, and a digital code for the soundtrack. Large scale retail releases getting goodies like this is a nice change from the usual where even Nintendo barely adds some reverse art and calls it a day for their own releases.
Enter The Gungeon: Deluxe Edition
(Nighthawk Interactive)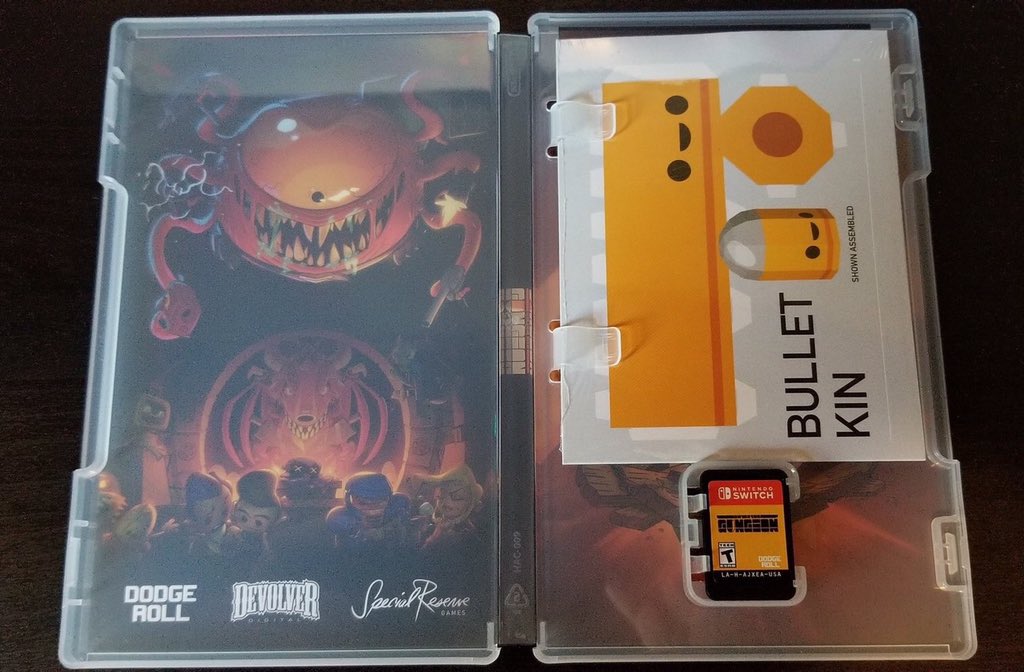 Enter The Gungeon: Deluxe Edition is another physical release from Nighthawk Interactive that brings a Devolver Digital published digital release to retail shelves for Switch. In most cases, physical releases on Switch add about $10 over the digital price but Gungeon adds $15. This release includes a reversible cover, a papercraft model, stickers, and a download code for the soundtrack. It is also worth noting that this release includes all the DLC from the game including the Farewell to Arms expansion and an exclusive playable skin.
Transistor
(Limited Run Games)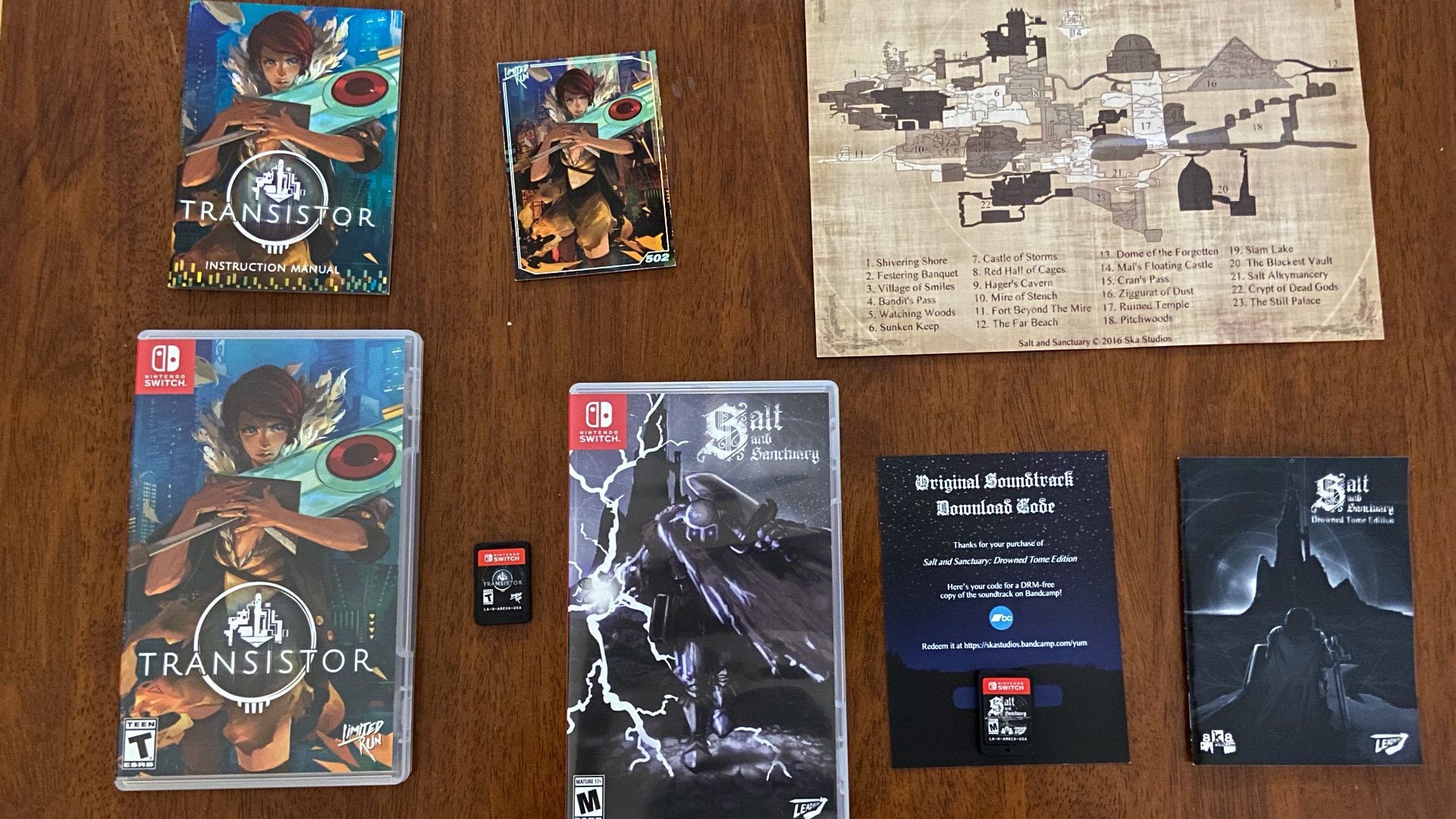 Using a Limited Run Games release is probably cheating because they almost always do fantastic physical releases. Transistor is a game I've wanted a physical copy of from the moment I saw the initial reveal trailer. The game debuted on PS4 and PC and then made its way to iOS and now Nintendo Switch. It is a must play title and one of my favourite games this generation. For the physical release on Switch, Limited Run Games did reverse art (not a reversible cover sadly), a thick printed manual, and a trading card. If you live in USA, Best Buy still has a few copies available with a different cover from what I can see. The trading card pictured is exclusive to the Limited Run Games pre-order only from what I can tell, so keep that in mind for future purchases when you see something on Limited Run Games that might be sold on Best Buy in USA later on.
Bonus: Final Fantasy VII and Final Fantasy VIII Remastered Twin Pack
(Square Enix Asia)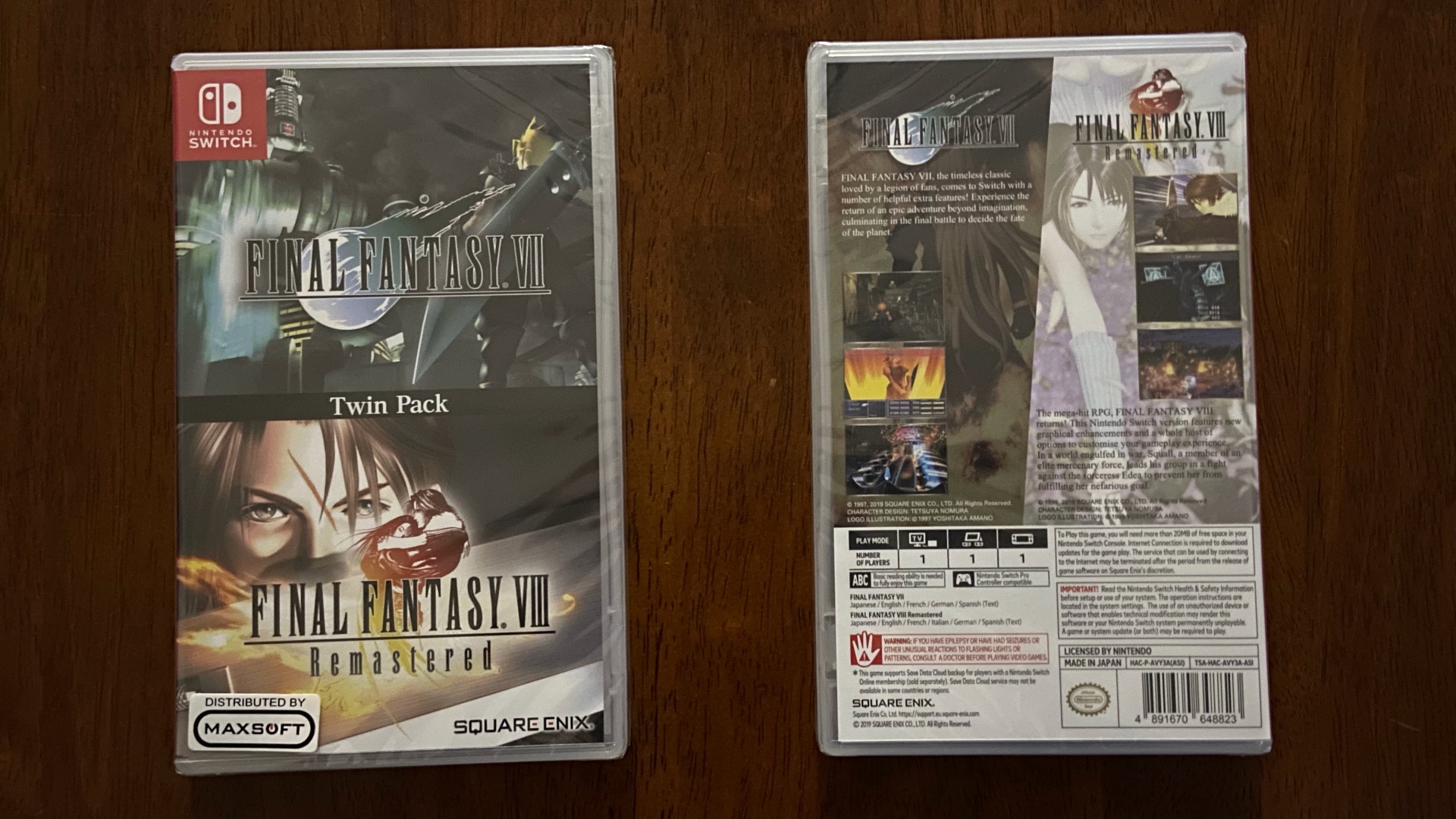 As a physical release, Final Fantasy VII and Final Fantasy VIII Remastered Twin Pack isn't anything special on paper. It doesn't have a manual or a reversible cover. This release is special because it is the first time both of these mainline Final Fantasy games have been released on a Nintendo system in general. Getting a physical release is a bonus. The physical release is an Asia exclusive. Final Fantasy VII and Final Fantasy VIII Remastered Twin Pack is the rare physical release for a Japanese game that was only done in Asia and not in Japan or any other region. If you've wanted a physical copy of the two ports on Switch, this Asia release is worth looking into. I can't wait to get Romancing SaGa 3 when Square Enix Asia releases that one in 2020.
With 2019 done, I want to know what you thought of the Switch library this year. Many big name ports showed up and we even got Limited Run Games, Nighthawk Interactive, Strictly Limited Games, and more do some great physical releases. Are you a digital only person or do you enjoy getting physical releases as well?