Welcome to the SwitchArcade Roundup for August 2nd, 2018! While some site-related news regarding Apple was a bit deflating yesterday, we're keeping a high spirit here for your Nintendo Switch coverage. It's Thursday, which means new releases and new discounts on some good games (and some duds, but I won't name any names!). The new release part of that equation ties us in to our Game of the Day, which is a game that just launched today on the Nintendo eShop. Let's get to it!
Game of the Day
Salt and Sanctuary ($17.99)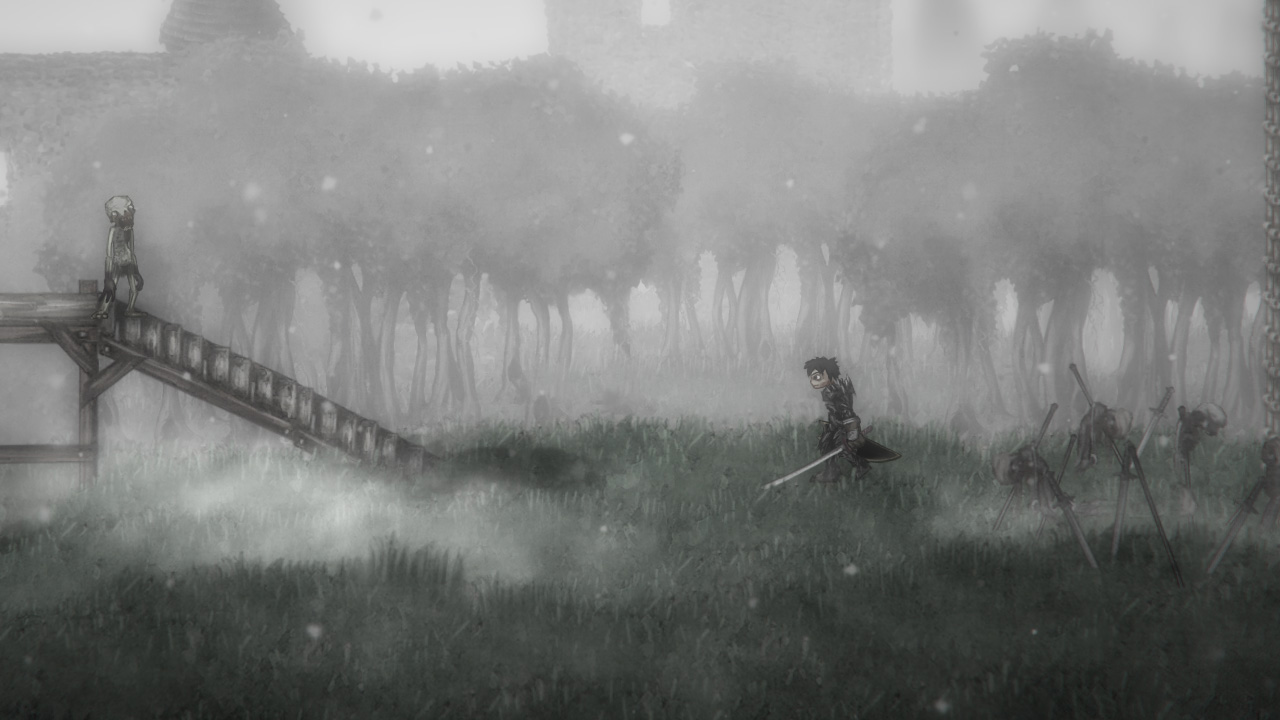 Lots of games are like lots of other games. Let me clarify what I mean by that. Some games say they're Roguelike in design, while others say they're Metroid or Castlevania-like. Salt and Sanctuary makes no qualms with stating that is Souls-like, clearly inspired by From Software's Souls series. However, instead of a 3D world, Salt and Sanctuary takes the grueling Souls experience and places it in 2D form. Rest assured, the game is just as brooding and brutal as one might expect from these types of games.
What Salt and Sanctuary essentially is-is a 2D Dark Souls. It has your custom avatar exploring castles, caverns, forest, and other dangerous locations filled with foes to battle and loot to grab, as you slowly make progress through the game. "Slowly" is the operative here, at least it is for me while I've been playing, as I'm a total beginner with Souls-like stuff. Enemies can easily outnumber you and take you out in a handful of attacks, and bosses can kill you before you know what hit you if you're unprepared. This results in lots and lots of deaths. Said death results in losing your current amount of Salt, used to upgrade your weapons and armor, as well as to level your character up, thus granting him or her new skills and stat boosts. Upon dying once, you can return to the scene of your untimely demise and defeat the enemy that killed you previously. If you fail to do so and collect your Salt, that Salt is gone forever.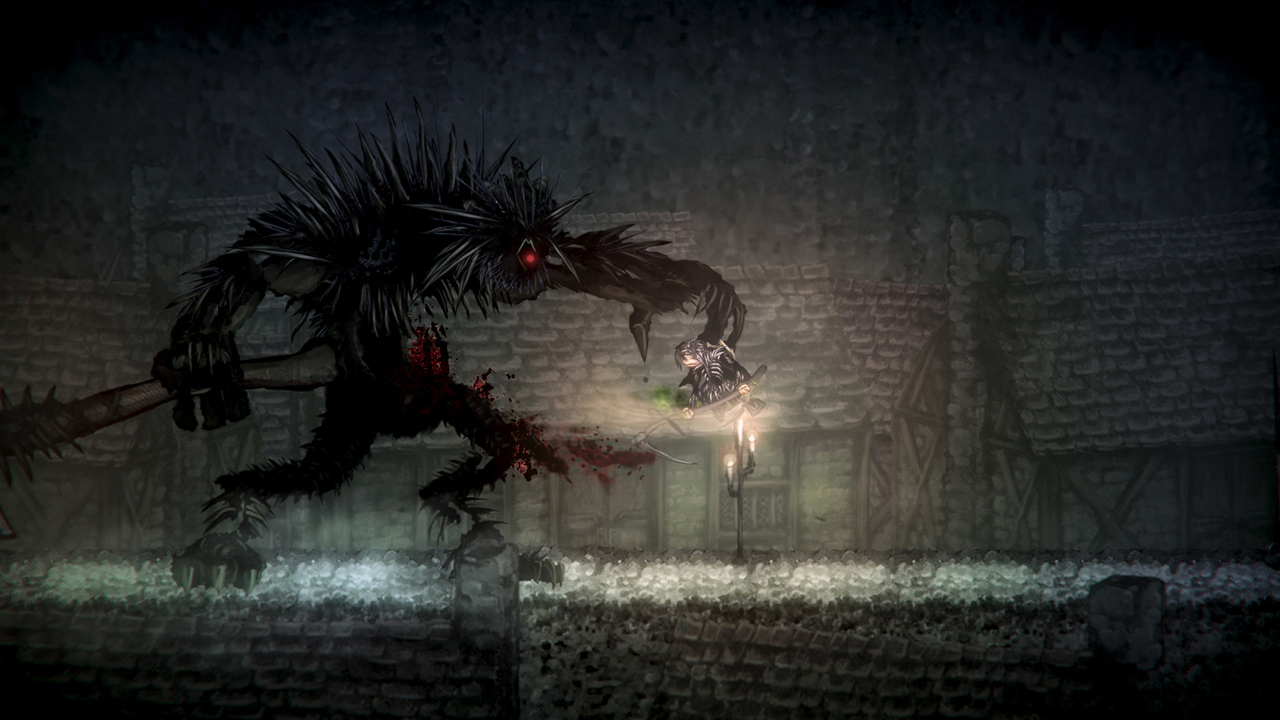 Thankfully, you aren't totally defenseless here in the unforgiving world of Salt and Sanctuary. You have a shield to block enemy attacks, you have a rolling maneuver to evade enemy strikes, and you of course have your weapons. However, you can't just swing your blade, axe, whip, and whatnot without a care in the world. You have a stamina gauge that depletes upon every attack you do, every time you hold up your shield, and every evasive roll you perform. Your stamina will eventually refill, but poor planning and bad strategy might result in you having no stamina remaining to block a powerful foe's attack, leading to instant death.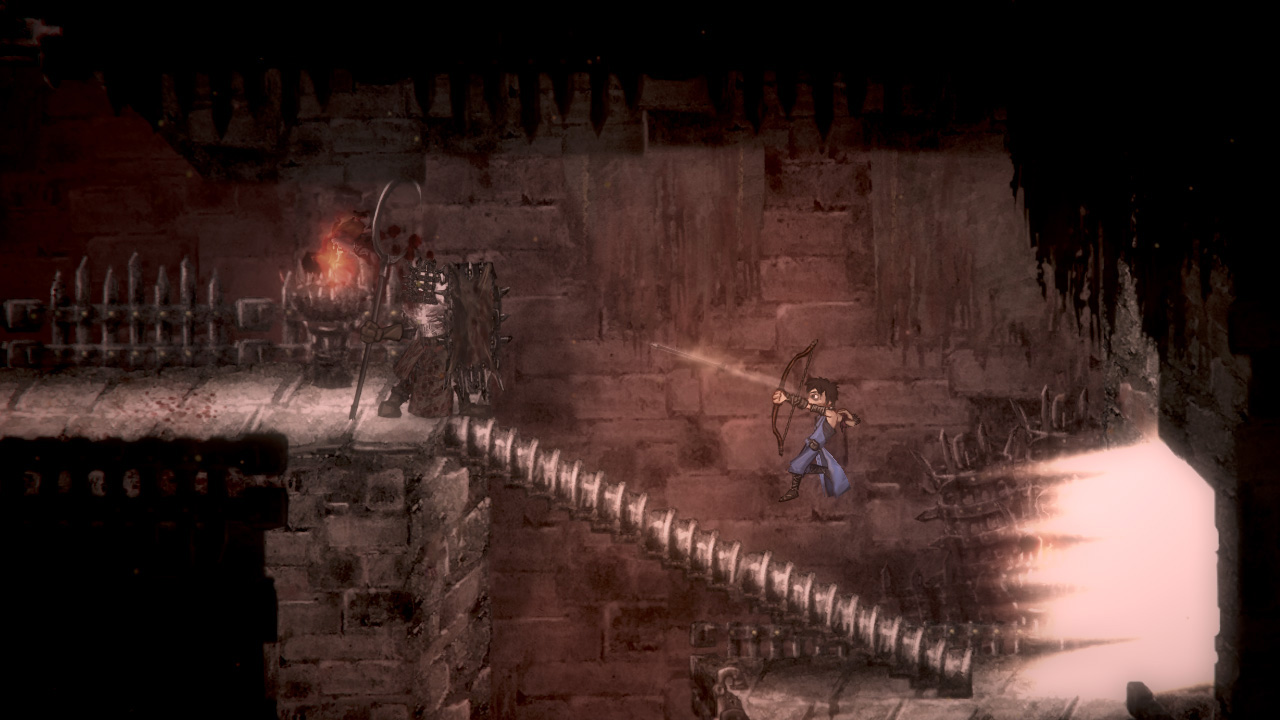 If you get easily frustrated, then I wouldn't recommend Salt and Sanctuary because deaths are a certainty instead of a possibility. These deaths, however, are learning experiences for players to grow more accustomed to the world, the combat system, and the inner workings of enemies and bosses. Even going through the game myself, I found it a bit difficult to just explore due to the lack of an in-game map of any kind. That said, if you're like me and are just sick of the current absence of the Switch version of Dark Souls Remastered and want a taste of Dark Souls with a 2D open world twist, then Salt and Sanctuary won't leave you salty.
News
Free-to-Play games on the Switch may not require a Nintendo Switch Online subscription
In approximately one month's time, Nintendo Switch Online officially launches, requiring a paid subscription in order to play online against players from all over the world in titles like Mario Kart 8 Deluxe, Mario Tennis Aces, Splatoon 2, and ARMS. That notwithstanding, something notable has been found on the Nintendo Switch eShop. For the paid games that require an online subscription, one can find these words in tiny font at the bottom:
"To use online services you must have access to a wireless internet connection. Some online services may not be available in all countries. From the full launch of the Nintendo Switch Online membership service in 2018, online play requires a paid membership."
However, for a free-to-play game, such as Paladins and Fortnite, no such fine print exists in the F2P games' descriptions. This isn't exactly confirmation here as to whether F2P games will or will not require the paid subscription, but it is a good sign so far. Nintendo Switch Online will cost $20 for a yearly subscription starting sometime in September.
Undertale's Switch version is officially releasing in Japan in September with a collector's edition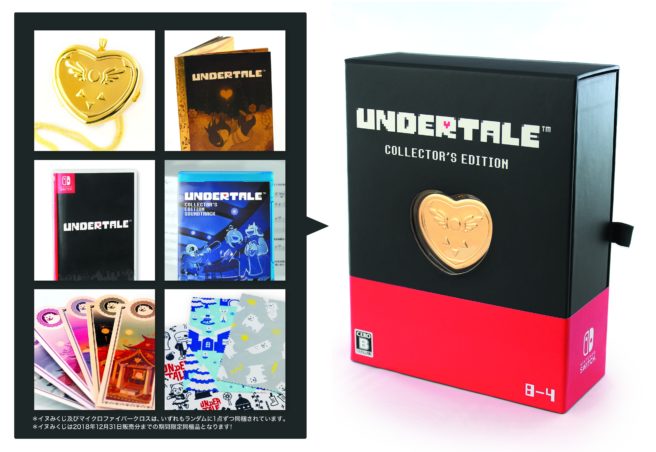 Official confirmation of Undertale releasing on the Nintendo Switch on September 15, at least in Japan, has now arrived. Three versions of the game will be available that day: the digital version on the eShop for 1,500 yen, a regular physical version for 4,000 yen, and finally, a collector's edition will be available for 8,800 yen.
The collector's edition will feature the game itself (nowadays with some collector's editions, one can't even be sure of the game being included!), a two CD soundtrack, sheet music of six songs, a brass music box locket (gold plated), a bookmark (one of six randomly packaged inside), and a microfiber cloth (one of three randomly packaged as well). For true collectors and fans of Undertale, obviously you'll want to import 20 collector's editions from Japan, so you can hope to collect all six bookmarks and all three microfiber cloths. (That IS the smart way of doing it, right? Note: Don't actually do that.)
Super Mario Odyssey introduces another new, free DLC costume to Mario's wardrobe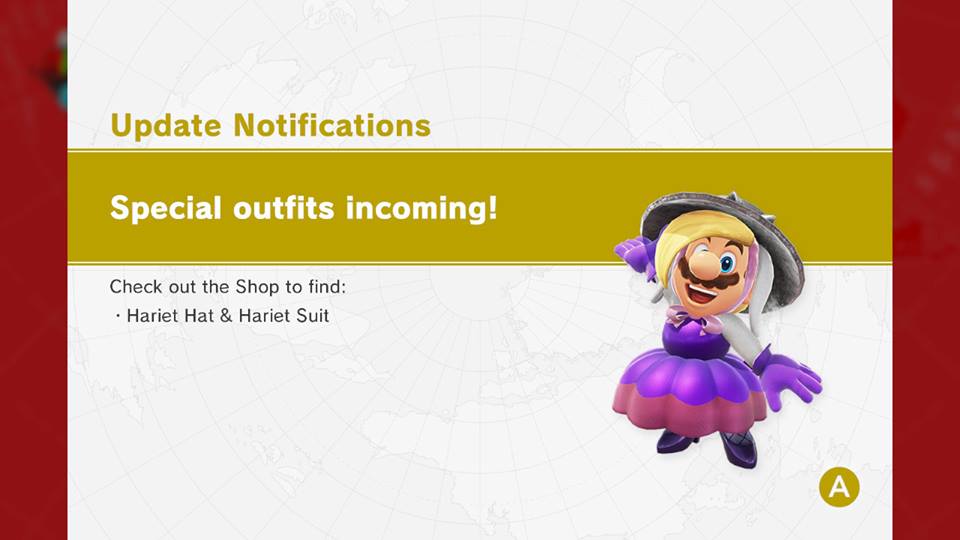 Just in case Mario's massive amount of clothing and costumes available to him in Super Mario Odyssey wasn't already quite enough for you, Nintendo continues to share the love with more outfit options, available for free–well, real money-wise. In-game, the newest addition and latest outfit available for Mario and players to purchase with coins are the Hariet Hat and Hariet Suit, modeled after the Broodal of the same name. This is in addition to the already added Topper and Rango-styled costumes. In the game, the Hariet Hat will cost Mario 3,000 coins while the Hariet Suit will set Mario back 5,000 coins, so get to popping balloons in "Luigi's Balloon World" to afford them, Mario maniacs!
The arcade combat racer GRIP receives release date and subtitle
If you're like me (and as always, God have mercy on your soul if you are), you love a good arcade racer. Even better if it's an arcade racer featuring combat. That's exactly what GRIP: Combat Racing hopes to excel in when it launches in North America on November 6th. Wired Productions and Caged Element promise 15 vehicles, 22 tracks, 10 player online, and a multitude of weaponry to make your opponents' racing less pleasurable. GRIP: Combat Racing is shaping up to be one wild ride, and when you have the talent behind the excellent PlayStation and PC racing games of the Rollcage games behind them, you know this title is in good hands. (And plenty of SwitchArcade Roundup readers ages 18 and under just went, "Roll… what" just to make me feel old.)
A jam-packed August 7th gets another game added to the release list with Flipping Death
Previously featured seemingly ages ago (or at least that's what it feels like) on a Nindies Showcase, Zoink Games finally has a release date to their Stick It To The Man follow-up, Flipping Death. The game releases this Tuesday on the eShop with a price tag of $19.99. With Flipping Death joining the crowded launch day of Dead Cells and Overcooked 2, Switch owners are about to once again be embarrassed with riches!
Mobile game Red's Kingdom rolls onto the Switch with a release date announcement
I enjoyed Red's Kingdom on iOS when it originally released early last year (my SwitchArcade predecessor didn't enjoy as much as I did, which you can see in his review). The part puzzle, part adventure game saw players rolling Red around the isometric, interconnected game world with the catch that every time that Red was rolled, he wouldn't stop until he hit something solid, such as a wall or block. Now, as we've seen so much in the past already with other iOS and Android games, this mobile title is seeing a Switch port. Releasing August 16th on the Nintendo eShop, it'll be time to go nuts while you gather some nuts in Red's Kingdom.
New Releases
Salt and Sanctuary ($17.99)
I'm having deja vu here! Didn't I already write up about this game? I think I might have, but just in case, Salt and Sanctuary is what could best be described as a 2D Dark Souls. It's a game that is quite punishing, difficult, and many times, frustrating. However, these adjectives make it so when you do overcome that challenge, that enemy, that boss, or reach that next safe sanctuary, it's highly rewarding of a feeling you get. No wonder I enjoyed Salt and Sanctuary so much to give it today's Game of the Day! (A-ha! Deja vu explained!)
Iconoclasts ($19.99)
It's taken eight years for Iconoclasts to finally launch, but those eight years of blood, sweat, and tears by the developer seem to have been worth it–very much so, in fact! Gorgeous 16-bit visuals, a wide array of impressive and challenging bosses, a Metroidvania world to explore, and a story that will keep you playing (despite the gameplay already seeming like it would do a fantastic job of that regardless!) till the very end all make up the apparently excellent Iconoclasts.
Flat Heroes ($9.99)
Flat Heroes is a platformer with nice, simple graphics where the objective in its 150 standard levels is to dash, jump, attach yourself to and slide down walls, and do everything else in your power to survive for each level's 30 seconds or more time limit. Alone, the game is a good time, but with friends? That's where "good times" get upgraded to "great times"! While there is currently no online play available, perhaps the developer will patch some in to Flat Heroes if the game is a success on the Switch.
Not A Hero: Super Snazzy Edition ($12.99)
From the developer of OlliOlli, the team at Roll7 moved on from pixel-perfect skateboarding to a pixelated shower of shooting and barrages of bullets. Not A Hero: Super Snazzy Edition continues Devolver Digital's "Summer of Devolver" promotional campaign, releasing one game per week throughout the month of August. Each of the lengthy levels comes filled to the brim with enemies to slaughter in comically over-the-top ways. Not A Hero: Super Snazzy Edition can be yours on a Switch near you today.
Picross S2 ($8.99)
If you've not played a Picross before, Picross S2 is as good a time as any to start. The second Picross release retains the same exact gameplay of past titles, but more of a good thing is, in fact, great! Adding Clip Picross into the already substantial amount of content included in the game, such as 300 puzzles across Picross and Mega Picross modes, Picross S2 is a mighty tempting puzzle game for aficionados of the genre and new players alike looking to scratch that puzzle itch.  (Though the only real caveat to the game is a lack of touch screen controls in handheld mode.)
Other New Releases
1979 Revolution: Black Friday ($11.99)
ACA NEOGEO Prehistoric Isle 2 ($7.99)
Battle Supremacy ($9.99)
Catch 'Em! Goldfish Scooping ($7.99)
Crush Your Enemies ($8.00)
Cycle 28 ($5.59 from $6.99 until August 9th)
Eekeemoo – Splinters of the Dark Shard ($4.99)
Green ($2.99)
Guns, Gore & Cannoli 2 ($12.99)
Johnny Turbo's Arcade: Shoot Out ($7.99)
Kensho ($14.99)
Road to Ballhalla ($14.99)
State of Anarchy: Master of Mayhem ($7.99)
Sales
New Games on Sale
Never Stop ($4.24 from $4.99 until August 8)
Street Fighter 30th Anniversary Collection ($29.99 from $39.99 until August 8)
Cycle 28 ($5.59 from $6.99 until August 9)
Alteric ($3.49 from $4.99 until August 15)
NORTH ($0.89 from $2.99 until August 15)
One Eyed Kutkh ($3.49 from $4.99 until August 15)
Skee-Ball ($15.99 from $19.99 until August 15)
Bleed ($4.07 from $11.99 until August 16)
Furi ($11.99 from $19.99 until August 16)
Hollow ($4.99 from $19.99 until August 16)
Maria the Witch ($2.49 from $4.99 until August 16)
Millie ($0.49 from $4.99 until August 16)
Slayaway Camp: Butcher's Cut ($4.49 from $14.99 until August 16)
Sparkle 2 EVO ($0.49 from $4.99 until August 16)
The Infectious Madness of Doctor Dekker ($9.09 from $12.99 until August 16)
Three Fourths Home: Extended Edition ($4.49 from $8.99 until August 16)
Violett ($1.99 from $9.99 until August 16)
Zombillie ($1.24 from $4.99 until August 16)
Mulaka ($15.98 from $19.98 until August 19)
AeternoBlade ($8.99 from $14.99 until August 22)
Subsurface Circular ($4.79 from $5.99 until August 22)
The Bridge ($2.89 from $9.99 until August 22)
Wanderjahr: TryAgainOrWalkAway ($5.99 from $9.99 until August 22)
Latest Sales Ending on Sunday, August 5th
One More Dungeon ($5.99 from $7.99 until August 5)
Plantera DX ($3.74 from $4.99 until August 5)
We've reached the ending of another SwitchArcade Roundup. So many deals and new releases, so little time! Seriously, how can one be expected to enjoy all of these notable releases? To be fair, that is an awesome problem to have! Until I see you around next time, friends, keep your Joy-Cons charged and your Switches loaded with great games!