Hello gentle readers, and welcome to the SwitchArcade Round-Up for August 13th, 2019. Today we've got reviews of the retail versions of Enter the Gungeon and Friday the 13th: The Game, summaries of today's new releases, and all of that usual sales information that keeps the gears turning around these parts. Not a whole lot of news, but I've got a new trailer for you to enjoy. Let's jump on in!
News
The Other Heroine of 'River City Girls' Shows Off in This New Trailer
We're mere weeks away from the release of WayForward and Arc System Works's new beat-em-up River City Girls, and the promotional material is really starting to roll out. Last week, we got a trailer that introduced Misako, one of the two protagonists of the game. Today, there's a new trailer that lets the other heroine, Kyoko, show off her moves. She's, uh, clearly a pro wrestling fan. Anyway, this is shaping up to be a pretty fun beat-em-up. It reminds me a lot of the dearly-departed Scott Pilgrim game, which itself was inspired by River City Ransom, so I guess time is a circle or whatever. River City Girls will be available on Switch and other platforms from September 5th.
Reviews
We've got something a little different for you today. Some Switch games were just released in retail form recently, and I've had a chance to dig into them thanks to their very kind distributor, Nighthawk Interactive, providing copies. While I know some people are ride-or-die on the digital train and others are physical-or-bust, some readers out there could go one way or the other depending on various considerations. Thus, I've decided to present reviews of the retail editions of two games: Enter the Gungeon: Deluxe Edition, and Friday the 13th: The Game – Ultimate Slasher Edition. Both games are available at North American retailers including Amazon, Best Buy, and Game Stop.
Enter the Gungeon: Deluxe Editon ($29.99)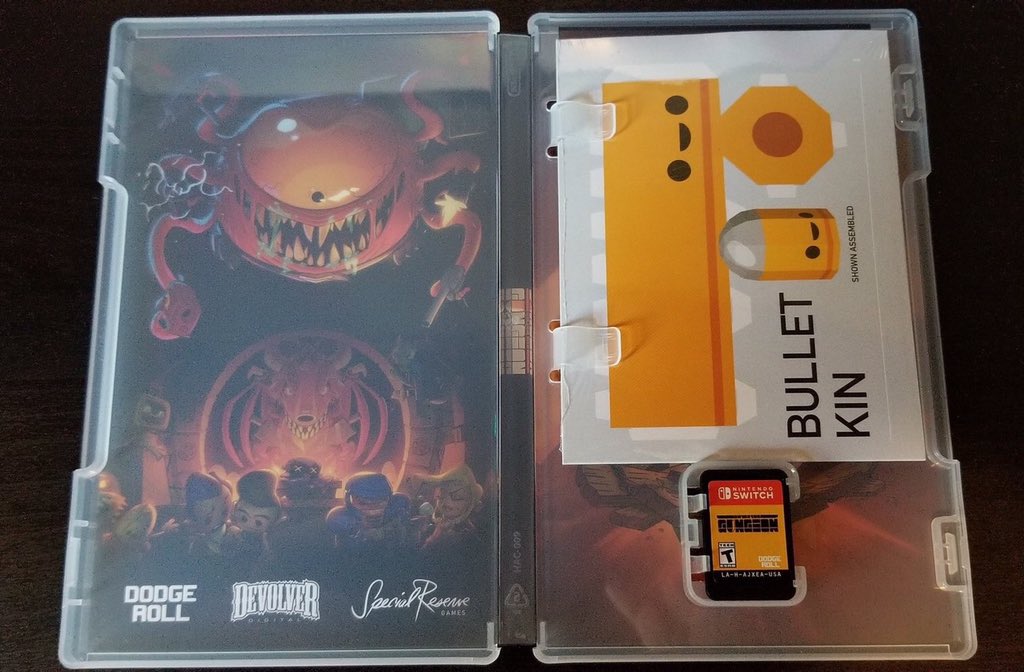 Enter the Gungeon has been out digitally on the Switch for almost two years now, selling tons of copies and generally being a very successful title. Heck, the chances are pretty good that you already own the digital version of this game. But that doesn't mean you can't indulge in this rather nice Deluxe Edition, right? Its $29.99 price is a little higher than the eShop version's $14.99, but it's rather affordable as retail Switch games go and has some nice things included to sweeten the pot.
Opening the case reveals some of the goodies right away. There's a nice reversible cover in case you want to swap out the simple, stark default cover for something a little more descriptive. There's a papercraft model of the Bullet Kin that you can put together or save forever because you have an issue opening the plastic on collectible items like this. There are also some sweet stickers you can slap on your laptop or whatever. There's also a download code that you can use to get a digital version of the Original Soundtrack for the game, which normally sells for $7.00 all on its own.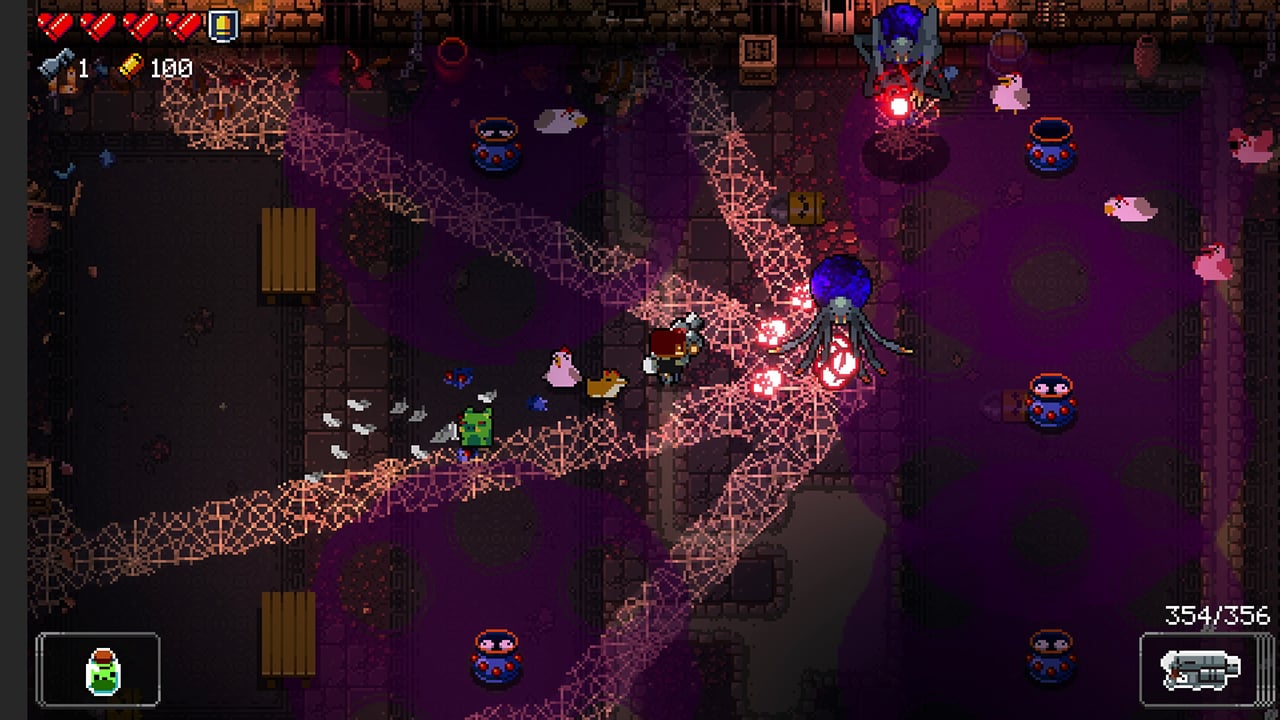 Those are the tangible goodies, but there are also some in-game benefits to this physical version. First of all, every bit of the DLC is included right from the hop here, including the Farewell to Arms expansion. But hey, you can get all that with the digital version, right? Sure. But this version also includes an exclusive Shotgun Kin playable skin, and that's not something you can just go and buy at the local Safeway. Plus, it's nice to just have the whole game on a cartridge that you'll know will always be there.
All in all, it's a good package for a great game. The papercraft and stickers are fun bonus items, and both sides of the reversible jacket look good. The code for the excellent soundtrack is most welcome, and an exclusive skin is a cool little in-game treat for buyers. That's all on top of simply having the game in a physical form. It's not like I want to have cartridges for every digital game I own, but the really awesome ones like Enter the Gungeon? Yeah, that's something I like to have on my shelf. Definitely worth picking up if you don't already own the digital version, and worth considering even if you do.
SwitchArcade Score: 4.5/5
Friday the 13th: The Game – Ultimate Slasher Edition ($39.99)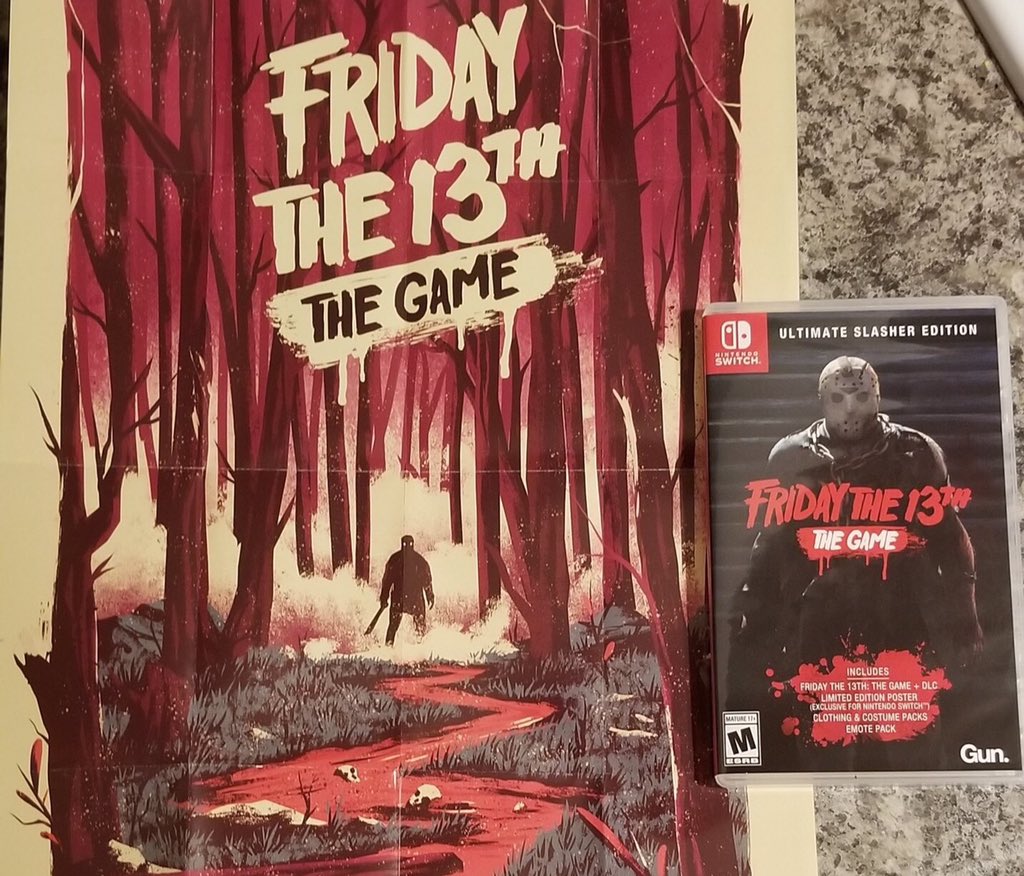 Thinking back, it's weird how much kid appeal horror movies of the 1980s had. On the one hand, movie series like Friday the 13th and A Nightmare on Elm Street were violent, grotesque, and sometimes even a bit raunchy. On the other hand, even elementary school kids were pretty interested in stuff with Jason and Freddy Krueger, to the point that they even had their own video games on the NES. Neither of those games were very good, mind you, and both of them seemed to miss out on what made the movies so popular. You played as the kids trying to take down the monsters, but nobody was interested in those movies because of the teenage "heroes". We were there for the monsters.
Nobody seems all that eager to go back to the well with Freddy these days outside of hosting him as a guest here and there, but Jason has had a minor resurgence in the world of video games in the last few years. And both attempts have gotten at least one thing right: they let the players control Jason. Friday the 13th: Killer Puzzle has been out on Switch for a while, but the more visually-taxing Friday the 13th: The Game seemed out of the console's reach for sheer technical reasons. Well, never say never, because you can now play a rather impressive version of the game on your Switch.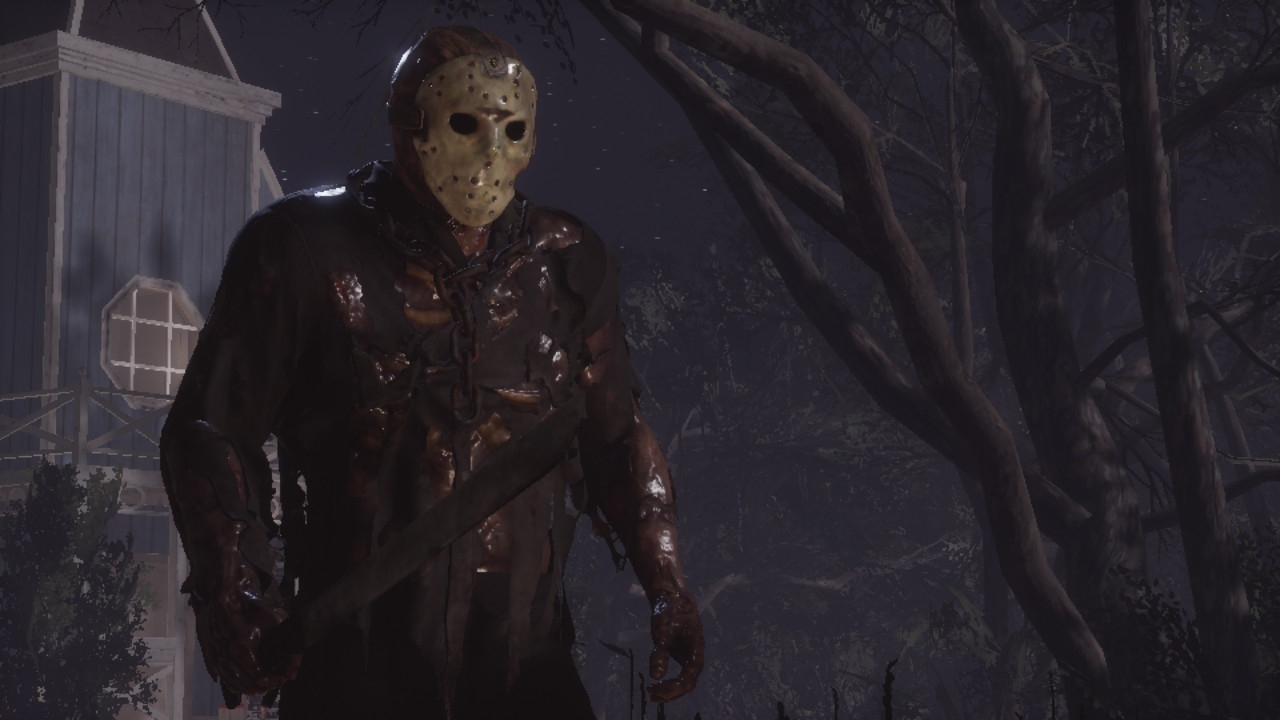 Is it a good fit for the handheld? Yes and no. While there are offline challenges to play on your own and  some bots you can bat around, there's no question that the meat of the game is in its online play. Up to eight players can join in, with one player controlling Jason and the other seven taking on the role of camp counselors. The counselors need to escape or survive. Jason needs to kill them all. Multiple different versions of Jason are available or unlockable, each with their own strengths, weaknesses, and unique kills. There are also a large number of counselors to pick from, though all but a few are original to this game.
To tell the truth, things are pretty lopsided in Jason's favor, but that's probably how it should be, right? There are some clunky elements and technical issues, and some people just can't get into it. It certainly takes some grinding to unlock all of the various goodies. But I think if you give it time and find good people to play with, it's a really great little hide-and-seek video game. As a fan of the movies, I really appreciate all the little touches that make it feel authentic. I've never played anything quite like it.
That said, anything involving online and the Switch has to be carefully examined. You will need a Nintendo Switch Online account to play this one on the internet, and that's often a kiss of death when it comes to online populations for third party games. At this very moment, I can find people to play with easily enough, but I have no idea how long that will last. And if the online population for this game dies, there really isn't much to keep you coming back. Of course, you need to be online to enjoy the multiplayer, so if you're out on the road all you can really do is mess around with the single-player challenges or take on the rather dull AI.
As for the retail package, it's the same price as the digital version: $39.99. It includes all of the DLC previously released for the game, paid or otherwise, minus the Kickstarter backer exclusives. That means you get a ton of clothing, costume, and emote options, plus all of the extra skins and stages that were added to the game on other platforms after it came out. You also get a nifty little poster done up in the style of some of the classic movie posters. The game's file size isn't huge but it's not small either, so it might be nice to spare your memory card the pain and play this off the cartridge. On the other hand, the online nature of the game's main mode means that any physical version is only going to serve as a limited permanent record of its existence. Still, it's a cool piece of swag for Friday the 13th fans.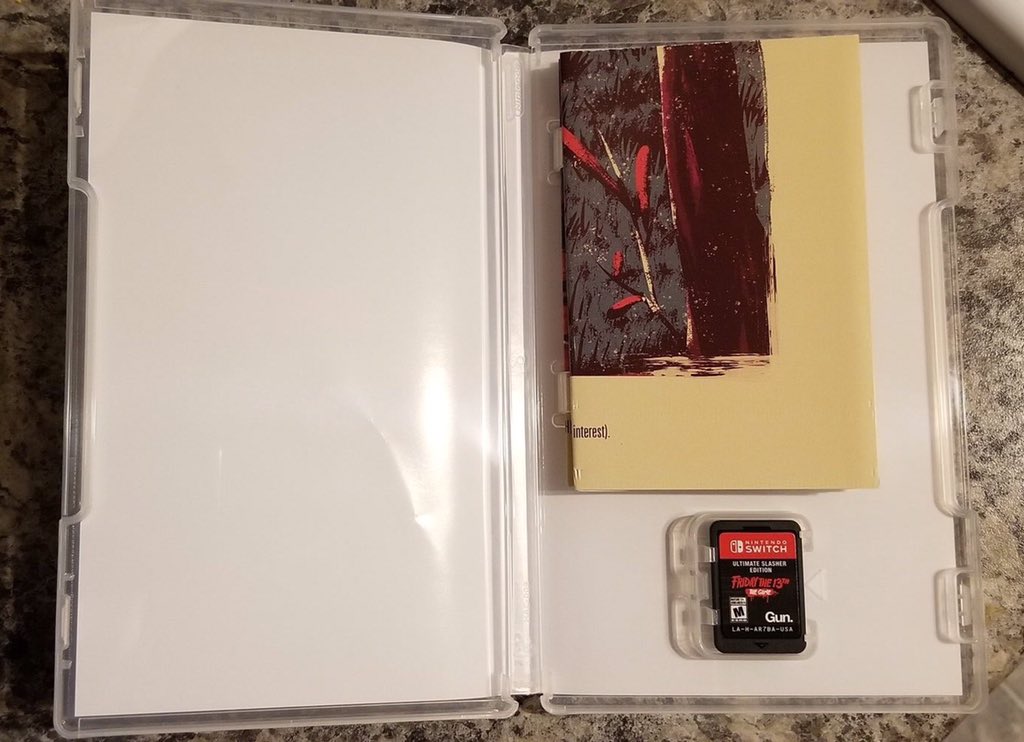 I think if you know what you're getting into with Friday the 13th: The Game, you'll probably enjoy yourself. Don't buy the game if you don't like playing games online. You're not going to enjoy it if you're looking for a more standard online experience, either. But if you like the brand and you enjoy the idea of stabby-stabby hide-and-seek, Friday the 13th: The Game is a really unique and fun game. While the Switch version is an admirable port, I'm not sure it's necessarily well-suited to the platform thanks to its online nature. If you have another platform that plays host to the game, the only real advantage here is being able to curl up and play wherever an internet connection reaches. If you do opt to pick up the Switch version of the game, though, the retail version is priced the same as the digital version and does include that sweet poster.
SwitchArcade Score: 3.5/5
New Releases
Never Give Up ($14.99)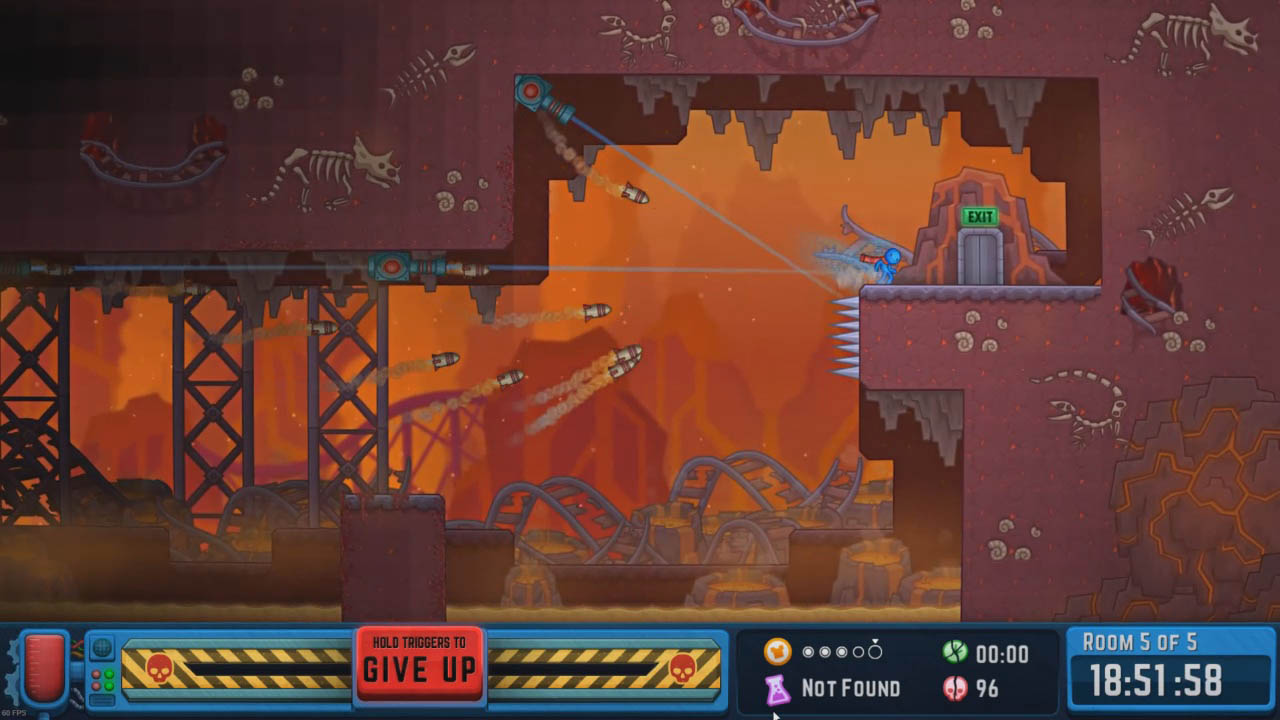 SwitchArcade Highlight!
I'm not sure how much time our readers spend playing Flash games and their ilk, but if you are a fan of those you may remember a series called Give Up. Well, this is a successor to those games. If you haven't heard of the series at all, it's easy enough to explain. This is basically a super-hard platformer along the lines of N+ or Super Meat Boy. It's hard as heck, and if you feel like giving up on a level, you can do that. You can move on to the next level. You will be mocked by the game for your failures, though, so try not to throw your controller and/or Switch. Oh, and that Egoraptor guy does voice work for it or something. That may be of interest to some of you.
Friday the 13th: The Game ($39.99)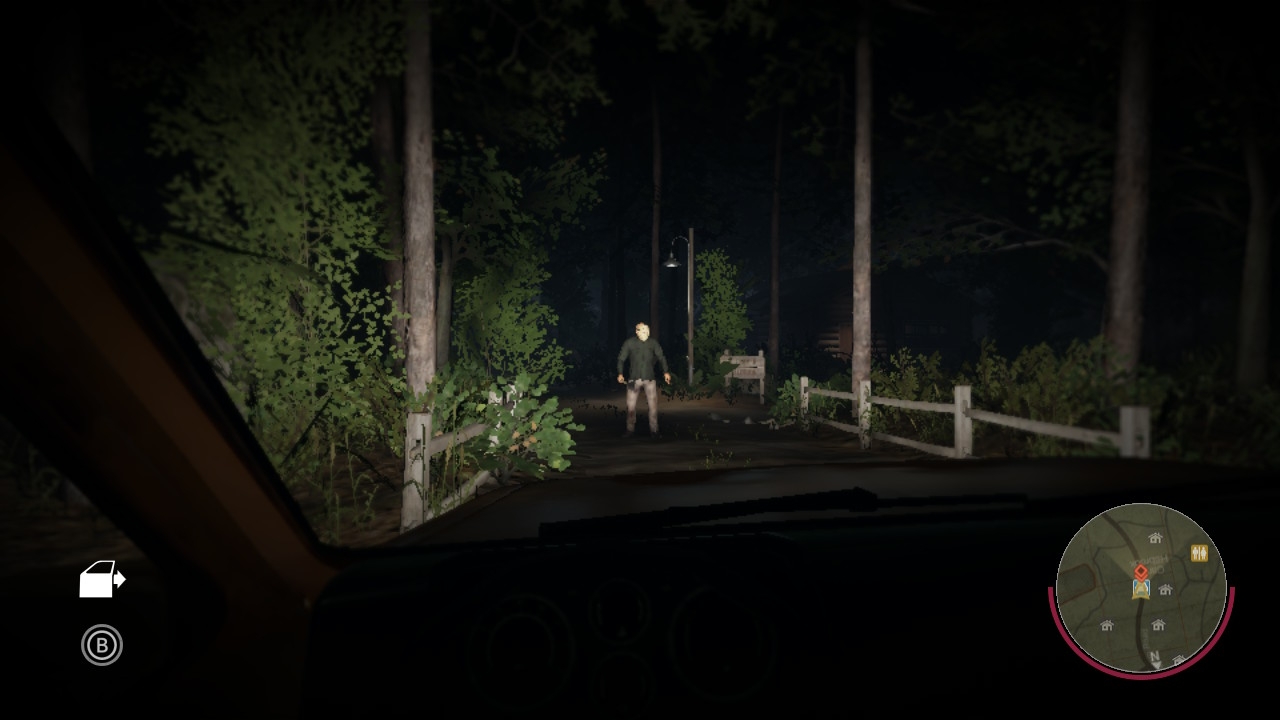 SwitchArcade Highlight!
This game's concept is so good and it mostly pulls it off. While there is some offline content, the core of the game is its online multiplayer mode, where one player takes on the role of Jason and the others play camp counselors. Jason has to do what Jason usually does: kill all those ill-behaved kids in gruesome and surprisingly creative ways. And the counselors need to do what their movie counterparts almost never do: escape with their skin intact. Jason is slow but incredibly powerful and can make use of all kinds of tricks to get around the maps. The counselors are weak but their numbers can work to their advantage. With tons of unlockables that pay homage excellently to the classic film series, Friday the 13th: The Game is pretty much the best you could hope for out of a Friday the 13th game. The Switch port is quite well-done, to boot.
Exception ($14.99)
Okay, so maybe Never Give Up isn't your vibe. How about Exception, then? This is another tough platformer that takes place inside a computer that is becoming increasingly corrupted by a virus. The levels will reshape themselves around you while you make your way through them, sometimes in spectacular fashion, but your character's abilities will also expand as you go. With over 100 levels, there's plenty here to keep you busy, but the Switch version of the game does suffer from some performance issues. It's not unplayable by any means, but if you have access to another platform it's probably better to play it there given the timing-based nature of the challenges.
Sales
A small but powerful list today, friends. Valkyria Chronicles for twelve dollars is a silly value for anyone coming off of Fire Emblem and looking for their next strategy RPG. Oninaki is back on sale again in preparation for its impending launch, so if you missed the last one, here you go. In the outgoing list, Team Sonic Racing is good fun and Friday the 13th: Killer Puzzle is interesting. I'd imagine both of those will be back around sooner or later, though. Well, do the usual business of checking those lists, friends.
New Games on Sale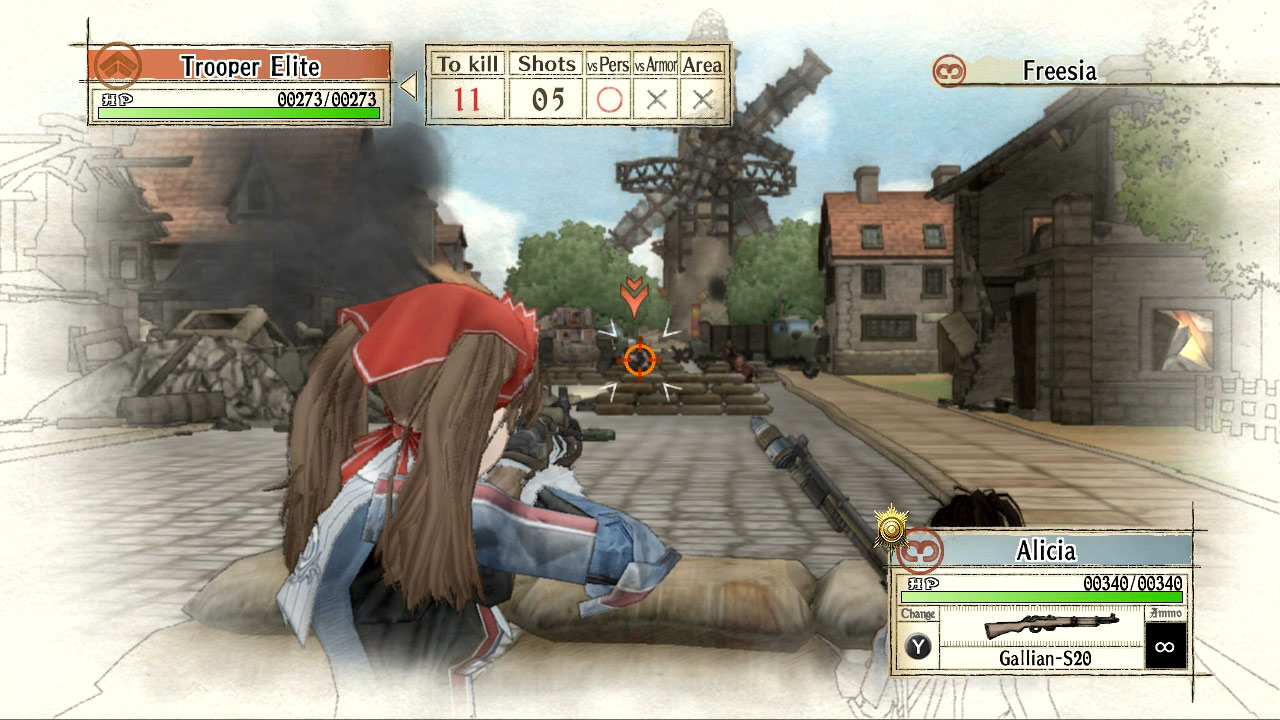 Valkyria Chronicles ($11.99 from $19.99 until 8/19)
Peace, Death! Complete ($1.99 from $4.99 until 8/18)
Farm Together ($16.99 from $19.99 until 8/19)
12 is Better Than 6 ($4.99 from $9.99 until 8/18)
Citizens of Space ($11.99 from $14.99 until 8/19)
Lines X ($0.74 from $0.99 until 9/1)
Heave Ho ($8.99 from $9.99 until 8/29)
Oninaki ($44.99 from $49.99 until 8/21)
Whipseey and the Lost Atlas ($5.39 from $5.99 until 8/27)
Sales Ending Tomorrow, Wednesday, August 14th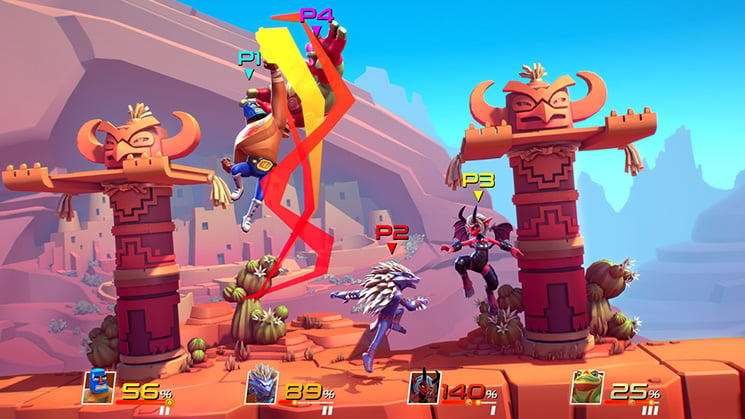 Brawlout ($7.99 from $19.99 until 8/14)
Fell Seal: Arbiter's Mark ($25.49 from $29.99 until 8/14)
Friday the 13th: Killer Puzzle ($9.99 from $19.99 until 8/14)
History 2048 ($2.49 from $4.99 until 8/14)
Jungle Z ($10.39 from $12.99 until 8/14)
Nine Parchments ($5.99 from $19.99 until 8/14)
Pix the Cat ($7.99 from $9.99 until 8/14)
Rally Rock 'N Racing ($7.99 from $9.99 until 8/14)
Solo: Islands of the Heart ($15.99 from $19.99 until 8/14)
Sudoku Relax ($4.50 from $5.00 until 8/14)
Super Chariot ($5.99 from $19.99 until 8/14)
Syberia ($8.99 from $29.99 until 8/14)
Syberia 2 ($8.99 from $29.99 until 8/14)
Team Sonic Racing ($27.99 from $39.99 until 8/14)
The Demon Crystal ($7.99 from $9.99 until 8/14)
Trine 2: Complete Story ($10.19 from $16.99 until 8/14)
Trine Enchanted ($8.99 from $14.99 until 8/14)
Viviette ($7.99 from $9.99 until 8/14)
That's all we've got for today, friends. I've still got a few reviews I'm cooking on, including a couple of games I'm pretty excited about. Will they be done tomorrow? Maybe. Maybe not. I'm not being coy; I really don't know. But I do know that we'll have some new releases to look at, along with some news and sales info provided the universe cooperates. We'll see you all tomorrow, and as always, thanks for reading!