It's often said that SEGA of Japan and the Western branches of SEGA operate in very different ways, and that's always apparent at their Tokyo Game Show showings. Mainstay mobile products of the Western side like Sonic Dash and SEGA Forever are rarely seen, while the games they do tend to show almost never make it to the West. Still, it's always interesting to see just what kinds of games the company is putting out there, especially for a market as competitive as Japanese mobile gaming. This year, they didn't really have anything playable, but they did make a show of at least two mobile games in their booth.
First up is the upcoming online game Ryu ga Gotoku Online, a new spin-off of their popular Yakuza series. The game features a new protagonist named Kasuga Ichiban and is described by SEGA as a "dramatic RPG". I'm expecting it to be a social RPG of some sort, especially since SEGA has already made it known that the game will be free-to-play with optional IAPs. The game's banner made up a large portion of SEGA's booth, but the game itself wasn't being shown while I was there. They did talk a little about the new main character, as he is meant to be taking over the main series from the next new installment as well. Outside of that, your guess is as good as ours. Although the series has been getting more overseas attention as of late, I'm not putting good odds on this game getting localized anyway.
The other major mobile game was being displayed in Atlus's portion of the SEGA booth. Dx2 Shin Megami Tensei: Liberation is an upcoming free-to-play social RPG featuring the popular brand and its menagerie of demons. Unlike with SEGA and Ryu ga Gotoku Online, Atlus was happy to share details on this one. They showed off the game with eleven minutes of gameplay footage. The video is in Japanese, but you should be able to get the gist of it. Unfortunately, Atlus has a really poor track record with localizations of their mobile games, so this is another one with a cloud of doubt hanging over its worldwide release.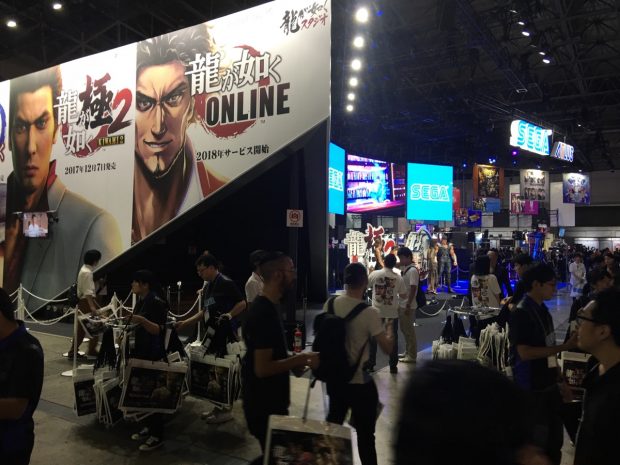 While the lack of overseas versions with so many of SEGA's mobile games can be a bummer, it's at least interesting to see how their approach in Japan differs from how they handle the rest of the world. It's also weird to see Atlus trying to apply a free-to-play formula to Shin Megami Tensei, but it looks pretty good as these things go, I suppose. We'll bring you more information on both of these games if we see anything cool from them down the line.