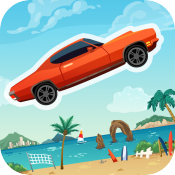 One of the more interesting things we've been observing on the App Store over the last three or so months is the rise of endless racing games. Built like runners, these games have you driving cars with questionable suspensions across craggy levels. The goal is to drive as far as possible before crashing. The longer you travel (and the more tricks and jumps you can pull off along the way), the higher your score.
We're not 100 percent sure why these are hot, but our guts say the upgrade models have a big hand in it. The best endless racing games have in-game currencies. As you drive, you pick up coins that can be used to upgrade components of cars and buy newer, faster ones. As Call of Duty continues to prove, the click-treat that comes with upgrading and unlocking is powerful stuff.
When something gets hot on the App Store, whether it's a genre, style of game, or even an IP, you see a lot of knock-offs. We've certainly spotted a couple of terrible cash-in endless hill racing games. Our best hill climbing list ignores these and celebrates some of the originality we've seen in this fledgling space.
Extreme Road Trip 2, Free – [Forum Thread] – [ TA Plays ] – Extreme Roadtrip 2 was the game we feel like started it all. It's still the strongest of the hill racing games we've encountered so far. Great visuals coupled with superb sounds and reliable physics make this a blast to play. Plus, the fun upgrade paths and unlocks keep you coming back for more.
Earn to Die, $0.99 – [Forum Thread] – [ TA Plays ] – It's the post-apocalypse and you only have a shred of gas to escape from the incoming horde. In Earn to Die, your goal is to slowly build up a collection of cars that can get you out of a bad situation — and into, sometimes, worse ones. The premise of this one goes a long way in making the hill climbing action click.
I Hate Zombiesâ"¢, Free – [Forum Thread] – [ TA Plays ] – At first glance, this seems like a pretty mundane hill climbing game, but after playing for a bit, you'll appreciate just how solidly constructed it is. The physics are wonderful, the car selection is ridiculously robust and the addition of a jump mechanic certainly sprinkles some extra flavor into the experience.
MotoHeroz, Free – [Review] – [Forum Thread] – The makers of Trials HD on consoles wanted to bring a similar experience to mobile without just rehashing the same old thing. The result was Motoheroz, a game with a fantastic look and devilishly designed levels. Just completing each one is a challenge on its own, but throw in time-trial, hidden items, and a 3-medal scoring system and Motoheroz is a game you can spend a ton of time with.