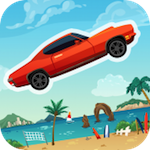 Earlier this morning, Eli and I dug into Extreme Roadtrip 2 (Free). Chances are you've heard of this one if you have Game Center friends. For whatever reason, it allows players to spam challenges, even to people that don't have the game. Talk about annoying. Also, gross.
The spamming made us assume that Roadtrip 2 was equally gross, but it's not. It's a rad endless racing game that tasks you with going as far as you can across a hilly level. As you drive, you'll get bonus points for doing all sorts of tricks, including flips. Solid controls and a good sense of speed keep the game entertaining, and car upgrades add that layer of persistence that we love in endless games.
Anyway, if you haven't actually seen this thing in motion, check it out below.