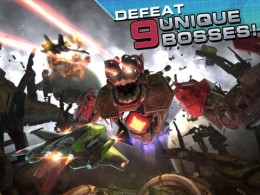 Hey everybody, here's the best games we reviewed in the month of November. Keep in mind you can view all of our 5 star and 4.5 star games via category sorting. Similarly, you can see all of these "best of" roundups by clicking the Best iPhone Games category. You'll find tons of good stuff in there, especially if you dig back into the archives a bit.
Additionally, if you haven't already, give the TouchArcade app [Free] a download. It's free, and you'll get push alerts when we post articles like these and other things related to five star games. Cool, right?
5 Stars
ARC Squadron, $2.99 / Lite – [Review] – [Forum Thread] – While "on rails" might be a bad word(s) for some members of our community, ARC Squadron totally nails the formula of an on-rails space shooter. Players join up as a pilot in the ARC Squadron to fight off the Guardians, an evil alien race who will stop at nothing to destroy everything. A four star rating system and a surprisingly complicated score multiplier system adds loads of replay value, especially if you're the kind of person who gets into Game Center leaderboard competition.
If you've been looking for a good way to scratch your Star Fox (or similar) itch on your iOS device, give ARC Squadron a shot.
Angry Birds Star Wars, Free / HD – [Review] – [Forum Thread] – The best part about Rovio's recent releases, between both this game and Bad Piggies is they could totally just ride on the coattails of the series, do nothing new, and just slap "Star Wars" on the proverbial box and people would've bought it. Instead, we get an incredibly awesome mashup of Angry Birds gameplay that's deeply, deeply entrenched in the Star Wars universe.
If you're a fan of Angry Birds, Star Wars, or Angry Birds and Star Wars, you need this game.
Walking Dead: The Game, Free – [Review] – [Forum Thread] – This game has made an appearance on quite a few of these best game roundups as they've released new episodes, and now that the series has concluded we can say with confidence that if you have a device capable of playing this game, you need to do it- Regardless of whether you're playing it on an iOS device, a home console, or your PC. Everyone needs to play this game.
The storytelling is incredible, the atmosphere is second to none, and it's amazing how it even feels like you as a player evolve in line with the story- Changing how you react to situations based on horrifying experiences you've gone through to survive.
4.5 Stars
Arranger, $0.99 – [Review] – [Forum Thread] – This game is almost impossible to describe in a succinct way. It's part music game, part adventure game, a collection of mini-games, and much more. Solving everything in the game involves music in one way or another, and tasks range from melody-based minigames to horizontal shooter segments where you're firing musical notes directly into a brain.
If you enjoy the quirky side of the App Store, Arranger needs to be on your device in the same folder as Enviro-Bear.
Dream of Pixels, $2.99 – [Review] – [Forum Thread] – The easiest way to describe Dream of Pixels would be "Tetris upside down," but that'd be doing the game a huge disservice as there's so much more to it than that. Fantastic touch controls allow for some expert maneuvering of tetrominos, and the cloud-filled atmosphere of the game sets a really neat mood. A puzzle mode is also included if you need a break from the pressure of classic mode, as it puts players to the task of simply removing all the blocks on screen with a limited number of tetrominos.
If you're looking for a new puzzle game that still feels vaguely familiar, Dream of Pixels definitely is it.
Heads Up! Hot Dogs, $0.99 – [Review] – [Forum Thread] – I'm not sure how they do it, but Adult Swim manages to knock it out of the park with the craziest game concepts. This one in particular involves balancing hot dogs on people's heads. Yes. You read that right. It's not as easy as it sounds either, as your hot dogs can be dropped, eaten by dogs, blown away in gusts of wind, and even shot by police officers.
The sorts of things you'll need to do for points in this game is downright insane, especially once you nail down the technique of hotdog juggling between pedestrians' heads. Much like Arranger, if you like weird iOS games, this is definitely one.
Micro Miners, $1.99 – [Review] – [Forum Thread] – This clever line drawing game puts players in charge of carving out mining paths for three miners to find different precious Minecraft-themed metals. The miners are color-coded too, and only certain miners can pick up certain metals, adding an additional layer of complication to the mix. Things get hectic crazy, especially as the game starts things like lava and acid your way.
If you're looking for a game with Minecraft flair, but not totally Minecraft, give this one a look.
QatQi, Free – [Review] – [Forum Thread] – The crazy combination of word crafting and exploration elevates QatQi to ridiculous levels of complexity- But not in a bad way, at all. It's like if you took Scrabble, made it single player, and added all sorts of secret bonus rooms on widely varied game boards filled with gold coins and score bonuses.
With visual trimmings by the same artist who worked on Osmos, QatQi looks as good as it plays. If you're into word games, be sure to give this one a shot.
Real Boxing: KO Fight Club, Free – [Review] – [Forum Thread] – There's loads of reasons to give Real Boxing a shot, ranging from the great looking graphics to the fact that there just aren't that many boxing games available for iOS devices. The best reason, though, is to try out it's Kinect-like functionality. If you've got a front-facing camera, the game can actually be controlled with your own body. Sure, it's gimmicky, but it feels really neat that your phone can do this kind of thing.
Oh, and it doesn't hurt that the game also has loads of game modes including both a career mode and online multiplayer via Game Center.