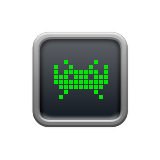 Our October game ratings are in place now, and here are the top of the heap. Our monthly "best of" round-up summarizes the top rated games that we looked at in the previous month. Each game reviewed receives a 1-5 star rating relative to the other games from that month. Generally, a 3 or higher is considered a "good" rating.
Our final scores are not the product of any traditionally objective measures such as graphics or sound, but simply reflect the games we would most recommend to others.
October's "Best iPhone Games" are highlighted here:
5 Stars
Soosiz – This is the best platforming game that we've played on the iPhone. It adopts the usual trappings of a traditional 2d platformer but perfectly mixes in a gravity defying mechanism that turns out to be a lot more than just a cute gimmick. Combine that with great controls and a ton of content, and you have one of our favorite iPhone games. (Review, App Store)
Canabalt – This isn't a particularly deep game. In fact, the average gaming session is probably measured in seconds rather than minutes. But with its simplicity and style, it managed to keep us coming back again and again throughout the month. You can try out the identical Flash version for free at Canabalt.com. (Review, App Store)
4.5 Stars
2XL ATV Offroad – We described this as a "console quality" iPhone racer. The game is technically impressive with beautiful graphics and manages to combine it with varied tracks, a proper career mode and Wi-Fi multiplayer to deliver one of the best racers in the App Store. (Review, App Store)
Boost 3D – We might not have been too over the top about the game when we first reviewed it, but over time we realized that Boost 3D is a game that we love to play. There's something hypnotic about this tunnel runner that had us coming back to play it throughout the month. (Review, App Store)
And some highlights from the 4 star games from October which we also enjoyed quite a bit: Doom Classic, Hook Champ, Beneath a Steel Sky: Remastered, and Super KO Boxing 2. The rest of October game ratings can be seen in their respective rating categories (also found in the sidebar navigation): 5 Stars, 4.5 Stars, 4 Stars, 3.5 Stars, 3 Stars, 2.5 Stars, and 2 Stars.
As always, we expect there will be some debate about relative scores, but keep in mind that everyone's personal ratings may vary based on individual tastes.