Welcome to the latest SwitchArcade Roundup, where we're covering a bunch of Nintendo Switch news and talking about some interesting sales! We'll even warn you about what one analyst calls the worst port they've ever seen, which you should probably not buy unless you're a masochist! But really, we live in an era where there's so much good content that you shouldn't have to hate-engage with anything, when there's so much that's actually good that you can enjoy. I suppose there's a difference between enjoying things that you know are lowbrow and possibly not actually good, so maybe I'm a hypocrite here, but regardless, try to limit the damage, I suppose?
News
Humble Bundle publishing Forager
While they're most known for their insanely cheap bundles of games, Humble Bundle also publishes games (such as recent release Aegis Defenders), and their next title is hitting PC and Switch. HopFrog's Forager, a top-down, 2D game of crafting and exploration, will get an expanded version that releases on multiple platforms this fall. This looks ridiculously charming, and you can check out a current build on desktop on itch.io.
HAMSTER Acquires Video System Catalogue
The prolific retro port publisher acquired the rights to Video System's arcade catalogue, including Aero Fighters and the F-1 Grand Prix series. HAMSTER already puts out a ton of these games, and they're on the warpath, acquiring more rights for these old arcade games to see new life on modern platforms such as the Switch.
Street Fighter 30th Anniversary Collection gets Switch-exclusive mode
Capcom's collection of a ton of Street Fighter games is coming in May, and the Switch is getting a nifty local multiplayer mode for Super Street Fighter 2. You can play in tournament mode with multiple systems, and when your next match is up, you just go to a free system. This seems potentially confusing, especially with players who want to use wireless controllers, but it might be cool for parties. I feel like some of these modes are overthinking on the part of developers, when gamers just want to use simple modes to get in and play. But hey, maybe there's a good use case here? For $40, this collection should be killer, and a much better value than Ultra Street Fighter 2.
Switch players spend more on mobile games than console gamers or mobile gamers
An interesting story came out recently, where EEDAR's Matt Diener produced data from January 2017-2018 showing the average monthly mobile game spend from mobile gamers, PS4/XB1 owners, and Switch owners. Interestingly, Switch gamers are more likely to spend on mobile games than either a console gamer or mobile gamer.
I don't know if this means that mobile adaptations will work on the Switch. What I think it does mean is that Switch owners are likely to be gaming enthusiasts, ones who will spend money, and have a greater desire to play and spend money on games they can play portably. A gaming enthusiast is more likely to spend money on games, versus the purely mobile gaming audience.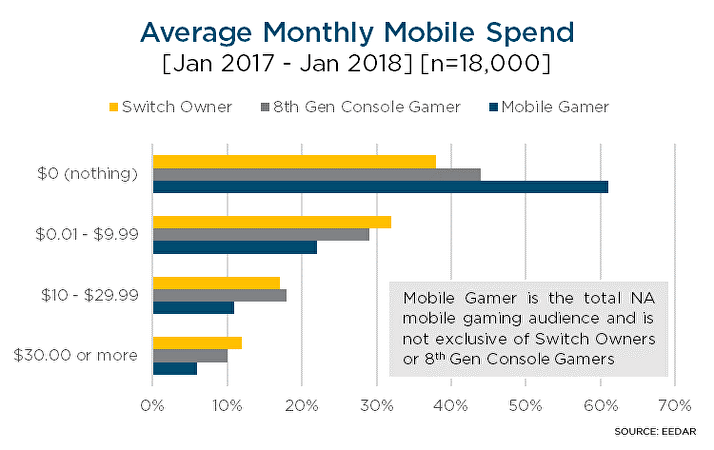 While there are enthusiasts on the mobile gaming platform, many players are playing mobile games out of convenience, or because they don't have to spend anything to get their gaming fix. Remember that free-to-play is often fueled by the top spenders, not necessarily the rank-and-file players and spenders, though they can contribute value otherwise: through incentivized ads and even just promoting the game socially to other potential players and spenders.
In short, it's actually pretty basic logic. Somebody that buys dedicated gaming hardware is more likely to spend money on games than somebody that owns a device that can also play games. And somebody that buys a system to play games on the go is not only more likely to spend money on games, but to spend money on games that they can play portably, no matter the source.
Sales
Heart and Slash ($13.49 from $14.99 until March 21st)
Want a roguelike brawler with robots? This is the game for you, as aheartfulofgames' interesting futuristic roguelike has a small discount on the eShop. This sort of sale seems interesting, because it's not a significant enough discount to perhaps convince someone to buy the game when they otherwise wouldn't have. Instead, it seems like a good way to get additional promotion for the game. I didn't realize this was on Switch until now, which makes the "Games on Sale" tab useful not just as a way to find discounts, but to find titles, period. Hmm! Be warned, that due to some Unity bugs, the game does crash occasionally, but a patch is in the works!
PSA: we have looked at what's missing and can now be 100% confident we will submit the patch to our publisher this week. How long it takes after that to appear on everybody's Switch we don't know yet, but hopefully will be fast. THANKS FOR YOUR PATIENCE!!!!

— Heart&Slash (@HeartnSlash) March 5, 2018
Enter the Gungeon ($11.24 from $14.99 until March 20th)
One of the premier action roguelikes you can play today is on sale for 25% off. You descend through the floors of the Gungeon, defeating enemies, unlocking new rooms, and just trying to stay alive. The game has a ludicrousness to it, where many of the enemies are bullets, and the weapons are often quite ridiculous, such as alien lasers, and a gun that shoots shotguns. It's not a 'true' roguelike as there is a progression element to the game, and you can unlock new things over time, but if you're not super-picky about what is and isn't a roguelike, definitely check this one out. Thanks to sales, I've bought this game three times now. I still suck at it.
Nightmare Boy ($8.99 from $9.99 until March 21st)
This spooky platformer is currently on a small sale, which seems about the exposure as much as it does picking up players through a big discount. This 2D platformer has you trying to survive the world of Donorok, as you become a dark prince in this nightmare world, and try to escape the world. It features an open-ended world, but I can't call it a Metroidvania since someone's beaten it in under an hour. Sorry, them's the rules
Human Fall Flat ($7.49 from $14.99 until March 26th)
Curve Digital asks an important question: do you want to complete your objective and help Bob achieve his dreams…or do you wanna use the physics engine to make silly things happen? If you like goofy physics games like Octodad, and want to customize your protagonist to your liking, check this out.
WWE 2K18 ($29.99 from $59.99 for standard, $40.49 from $89.99 for deluxe, until April 1st)
I call this sale out only to say that you should probably avoid it. Even with the latest patch, game technology analyst Thomas Morgan of Digital Foundry calls it "easily the worst port we've tested." Woof.
NBA 2K18 ($29.99 from $59.99, $49.99 from $99.99 for Legend, $74.99 from $149.99 for Legend Edition Gold, until April 1st)
Thankfully, NBA 2K18 is a better port, though still not feature-complete with its other versions. This is the biggest sale for the leading basketball sim yet, with half-off discounts for each version of the game. Here, Kawhi Leonard's quad is just fine and the Spurs are bound to make the playoffs again! Fiction is better than reality!
Keep an eye out every weekday for more SwitchArcade Roundups! We want to hear your feedback on Nintendo Switch coverage on TouchArcade. Comment below or tweet us with your thoughts!