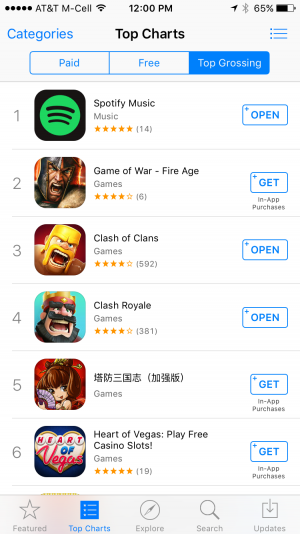 We've been posting quite a bit about Supercell's currently soft launched Clash Royale, and for good reason: The game is flippin' amazing. Carter posted a glowing piece on it, and I initially figured it was just crazy ol' cranky Carter on to some new thing, but it's actually incredible. I got onboard yesterday, and I'm hooked. The way it combines so many elements that work so well on mobile into one game just really only reinforces the fact that Supercell is truly among the kings of mobile.
Anyway, the whole idea behind soft launching something like this is to tweak and tune things behind the scenes to make sure the game is running well, but more importantly, to make sure the game is monetizing. Clash Royale is absolutely ripping up the top charts of every territory it's available in (I'm playing off a copy from the New Zealand App Store where it's currently #4.) which makes us wonder if it won't be seeing a full-blown worldwide launch far sooner than anyone is expecting.
If you care about getting on board with what's very likely going to be the Next Big Thing™, I highly recommend creating a Canadian or New Zealand iTunes account and downloading Clash Royale. Like many free to play games, a lot of your progress is gated by timers, but you can get a silly amount of cards without paying anything as long as you're just playing it throughout the day. Honestly, it's really a testament as to how playable the game is without paying considering how much of our community is currently playing it on an iTunes account without any kind of valid payment method.

For more information on the game, check out the huge thread in our forums. I just created a Clash Royale subforum this morning too, as I expect discussion on sharing deck strategies and such will eclipse what a single forum thread is really capable of handling once the game launches worldwide. Even if all you're doing is opening the free chests the game gives you, you're going to have a hefty leg up on other players, without spending any money, if you stick with it.
New Zealand App Store Link: Clash Royale, Free