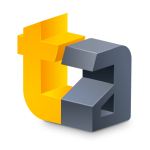 If there was one word to sum up the games we reviewed in April it'd just be wow. Seven five star games in all, and I'd say each one is an absolute must have. Additionally, I think it's pretty safe to say the slow start to 2014 is now officially over.
Here is a collection of our top reviewed games in April, 2014:
5 Stars
FTL: Faster Than Light, $9.99 [Review] – Hearthstone and FTL share a lot in common in that they've both existed on the PC/Mac for quite some time, and they both are insanely great games, but when played on the iPad the whole experience gets elevated to something truly amazing. FTL is a permadeath space exploration and combat game you can play for hours, and you totally will, as one run and being "so close" is never enough to satisfy you.
Hearthstone, Free [Review] – Following the tradition that's been cooking for decades now of Blizzard releases, Hearthstone is as much have as it gets. Sadly, this collectible card game is only available for the iPad right now, but Blizzard has plans to release it on the iPhone later this year. The PC/Mac release of the game has been incredible, and since it hit the App Store my iPad mini has essentially become a Hearthstone machine that happens to do a couple other things.
Hitman GO, $4.99 [Review] – What's weird about this Square Enix puzzler set in the Hitman universe is that aside from the setting and overall stealth-centric theme of the game, the Hitman branding feels almost secondary. The game is good enough to totally have stood on its own, and while people were initially disappointed that the Hitman game for iOS isn't a more traditional Hitman game, everyone who has tried GO seems to have been totally won over.
Leo's Fortune, $0.99 [Review] – Made by the same guys responsible for Devil's Attorney and Dark Nebula, I'm not sure it was a surprise that Leo's Fortune turned out to be similarly awesome. With some of the best graphics we've seen so far in a iOS platformer, Leo's puts you in charge of a furry green blob on the hunt for his fortune. Physics puzzles are everywhere, and a three star system adds some replay value to levels you've played through before.
Monument Valley, $3.99 [Review] – This radical experience-driven puzzler by ustwo is something everyone with an iOS device needs to play. The main criticism people have of it is that it's a little on the short side, but I'd argue that's a good thing, as it seems everyone who has downloaded it has finished it and are excited to talk about the game as a whole. How many mobile games can you say that about?
Wayward Souls, $6.99 [Review] – If there's an award for the game that has seen the most play on our Twitch channel, it'd have to be Wayward Souls. This permadeath roguelike-ish action dungeon crawler video game totally exceeded our expectations, and if you can't tell by how much we've been playing it, is totally impossible to put down. With hats to find, class upgrades to unlock, and additional classes to play as Wayward Souls has replay value forever.
Wind-up Knight 2, Free [Review] – The original was released in a time where any half-way decent autorunner was expected to do pretty well on the App Store, and Robot Invader really needed to up the ante with Wind-up Knight 2 to stay above water in the App Store of 2014. They did this through beautiful presentation, a new endless tournament mode, and tightening up basically everything from the original- Making a game that's wholly better than the first.
4.5 Stars
Sometimes You Die, $1.99 [Review] – How much you enjoy this game will largely depend on your tolerance for heavy-handed text in game questioning everything you thought you knew about game design. (You know know exactly what kind of game I'm talking about here.) If you're fine with that, Sometimes You Die is a clever game where you use your blocky corpse to solve puzzles. Every time you die you remain in game, so you can do things like create a bridge of death that you can then eventually jump across. Definitely check it out.
Fighting Fantasy: Starship Traveller, $5.99 [Review] – I'm reluctant to call this the best gamebook out there, as there are so many great ones, but I absolutely love the sci-fi theme of it all. The writing stands out as a total breath of fresh air, as these things are typically loaded to brim with fantasy tropes. Not the case here, instead you've got sci-fi tropes, which feels… Oddly fresh.
Tiny Space Adventure - A Point & Click Game, $0.99 [Review] – What's interesting about Tiny Space Adventure is that the game is so good because of how simple it is. At its core, it's a puzzle-centric platformer adventure-y sort of game, it doesn't try to reinvent the wheel, and I'm fine with that because the whole experience is really tight because of it. If you liked Rovio's sort-of similar Tiny Thief, be sure to give this one a look.
CLARC, $2.99 [Review] – This is an absolutely gorgeous puzzle game that leans on movies like Wall-E for a lot of the lovable robot plot in the game. There's no IAP to speak of unless you do the full game unlock in the lite version, and it feels like a "full" complete game, something that's oddly rare in the mobile space these days. The only down side is most of the puzzles are essentially block sliding puzzles, so if you're totally sick of those CLARC might not be for you. Otherwise, it's great.
Additionally, we reviewed a bunch of other games last month. As always, you can dig into all of our reviews by clicking here. Alternatively, you can hit up specific scores by using these links: