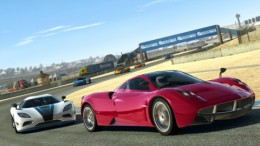 It looks like The Firemonkeys are giving people in Australia, New Zealand, and Canada a early Valentines Day present with the release of Real Racing 3 in these international territories. We've already got a thread going for the game on our forums, and if you're resourceful enough to Google instructions on how to create an iTunes account in one of these three regions, you can be playing Real Racing 3 right now. Being a "New Zealander," I already snagged the game, and despite all the comment rage over the game being free to play- It knocks it out of the park from an initial impressions standpoint.
In fact, Real Racing 3 is the only iOS game in recent memory that has invoked an audible "holy sh*t" from me the first time the actual in-game graphics make an appearance. It immediately throws you into a race, with visuals that are pushing the boundaries of unbelievable for mobile devices against real people pulled from Game Center. Ridiculously impressive.
We'll be plowing through the game today, so expect a full-fledged TA Plays in the not too distant future where we'll try to explore everything the game has to offer- Including its controversial payment system. Stay tuned for that, and the official US launch on the 28th.
International App Store Link: Real Racing 3, Free