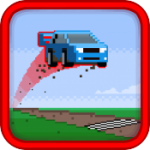 This past November, Cubed Rally Racer (Free) developer Nocanwin released a long-awaited follow-up title called Cubed Rally Redline (Free). It traded in the traditional driving mechanics of its forebear for a more streamlined auto-runner type of setup, while still keeping the same awesome retro-inspired look and fantastic chiptune soundtrack.
Cubed Rally Redline turned out to be a pretty fun little arcade game, one that we rather enjoyed in our review. Right now, for no real reason other than just for the heck of it, you can pick up Cubed Rally Redline for free.
If you need another look at Cubed Rally Redline then be sure to check out our TA Plays video of the game embedded above. Also, since our original review, a big update hit that added a sweet new Rally Mode as a 99¢ IAP that came with 20 distinctive levels to race through in addition to the main endless mode. It's all a lot of fun, so don't hesitate to download Cubed Rally Redline while it's free until this Sunday.