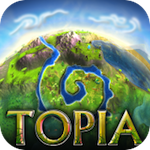 2012 had a lot of cool surprises and good games, as you've probably noticed. But not all of those good games could be neatly categorized. This post is for the weirdos, the games that straddled too many genre lines or are members of genres that have too few rad games to sufficiently flesh out a "best of" post.
You'll see some oddities in this listing — games that really stretch the meaning of game or apps that just have stupendous gaming elements. There's also titles that can be firmly categorized, and would have been, if there was more to celebrate.
It'll be interesting to see what 2013 will bring. Will we see way more card games than we did this year? What about open-world god games? New trends might have us re-thinking the way we categorize and the lists we bring to you.
For now, though, here's our best of the best of the rest of 2012.
Topia World Builder, $1.99 – [Review] – [Forum Thread] – Topia World Builder has the creation and the emergent systems we look for in a solid god game, but shrugs off messy scenarios. In the game, you can build valleys, rivers, trees, and animals. Then, you can watch world you've created work. It's kinda wild.
Hatchi - A retro virtual pet, Free – [Review] – [Forum Thread] – Hatchi is a spiritual successor to the Tamagotchi. In the game, you hatch a pet monster and then care for it, subtly changing the way it grows and forms as you do so. The retro visuals and simplistic mechanics might be a drag for some, but for those of us who had a pet monster on a keychain, they struck the right chord.
Magic 2013, Free – [Review] – [Forum Thread] – Magic: The Gathering – Duels of the Planeswalkers 2013 is a brilliant follow-up to a rad series that not only show you how to play Magic the right way, but allows you to jump in without plunking down dollars for cards. It's also nice that the core action of Magic is front and center throughout. This is truly a joy.
Zombies, Run!, Free – [Review] – [Forum Thread] – If you like jogging, but hate the tedium that can sometimes come along with it, consider giving Zombies, Run a try. It measures the distance you run and all of that jazz, but it also tells you a great survival story in the process. The audio has some neat hooks in it that gets you running faster, as well as systems that reward you for the effort.
Shufflepuck Cantina, Free – [Review] – [Forum Thread] – Shufflepuck Cantina is what happens with adventure game meets sports game. Presented as a "space western," Cantina tasks you with dominating a bar's shufflepuck table, while also learning about the world's creatures, characters, and mysteries. It's weird, but we think you'll dig the game's commitment to seeing its premise through.
Organ Trail: Director's Cut, $2.99 – [Review] – [Forum Thread] – Organ Trail is an awesome little satire that rips on Oregon Trail. In the game, you play as a survivor of a zombie apocalypse on a journey to get his friends to a so-called Safe Haven. Along the way, you'll have to hunt for food, as well as repair your car's tires and mufflers. This is one you shouldn't miss.
Micro Miners, $1.99 – [Review] – [Forum Thread] – This is a weird one. In Micro Miners, you control a horde of little miners and are tasked with collecting every possible scrap of resource as a screen scrolls eternally downward. Solid controls bolster the experience, while a great art style really sells it.
Skee-Ball 2, Free – [Review] – [Forum Thread] – Skee-Ball 2 is, oddly, a big favorite around here. It's a Skee-Ball game through and through, but it feels remarkably good, boasts a ton of lanes and balls, as well as a good amount of collectibles to obtain as you rock out.