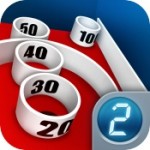 Boy, if there's one thing I've dumped a whole ton of time into during my life, it's playing the original Skee-Ball ($0.99) iOS game from Graveck and Freeverse. Launching in September of 2009, Skee-Ball was a direct descendent of Graveck's 10 Balls 7 Cups ($0.99) from earlier in the year. 10 Balls 7 Cups was a fantastic game with fantastic physics and feel (not to mention the hands-down best promo video you'll ever see in your lifetime), but partnering up with Freeverse to re-release the game allowed them to land the official Skee-Ball branding, something which helped Skee-Ball take off like a rocket and hover in the top charts for practically its entire existence.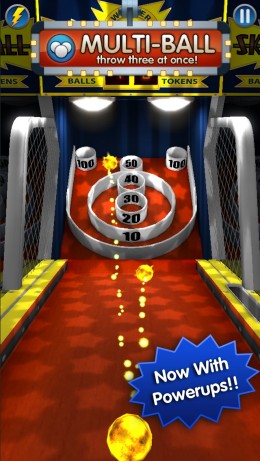 To my surprise, today Graveck and Freeverse have released a proper sequel to the original game simply titled Skee-Ball 2 (Free). Let me tell you, from the moment I took my first swipe and launched my first ball in this new entry, I knew I had fallen in love all over again. It feels exactly like the original, but bigger and better in every way. It fits the iPhone 5 widescreen and has Retina Display visuals across all supported devices. There's also some additional lighting and effects tricks in play which you wouldn't normally think about in a simple skee-ball game but have definitely added to the visual flair.
Perhaps most exciting is the inclusion of an asynchronous online multiplayer mode in Skee-Ball 2. It works brilliantly: you toss out your allotment of 8 balls, scoring as high as you can. It sends that score to your opponent, either a random person or a friend through Game Center, and they then have to try and beat it. This goes back and forth for 3 rounds before a winner is determined and shame is brought upon the loser forever. It's serious business! The whole multiplayer aspect fits in perfectly with the mobile nature of iOS devices, and is a heck of a lot of fun in the few matches I've played so far.
That's all well and good, but we know why you're really here: the prizes. One of the things that made the original so compelling was the sheer number of crazy prizes you could purchase using the tickets earned by playing games of skee-ball. They were standard-fare arcade prizes, like plastic rings, lollipops, and digital clock radios. I don't know why, but I just HAD to collect them all. Also there were a bunch of different specialty balls you could by and use in-game. I was obsessed with collecting everything, and remember the excitement of finally getting that Butterfly Ball I so desperately wanted. It was a magical feeling.
All of this returns in Skee-Ball 2, but it seems like there's loads more of it. You can earn tickets through playing games, and of course there's the ability to buy some more through IAP if you're impatient. You can also pick up a lifetime "ticket doubler" IAP, which I wasted no time in doing. Besides tickets, you can now earn "tokens" as well, which allow you to buy one-off power-ups during a game like multi-ball or double points. These tokens too can be bought via IAP but you can also earn them naturally by nailing the cup that light up during a game, which were also part of the first Skee-Ball.
Can you guys tell I'm excited? I absolutely loved the original Skee-Ball and with Freeverse being so wildly different in the iOS space than they were a few years back and Graveck off making their own games like Jump Dewds (Free), I never really imagined I'd get a sequel to my beloved Skee-Ball. But here we are. If you are like me and loved the first game or you weren't an iOS device owner at the time and missed out on it, definitely check out this new and improved offering, and hit up our forums for even more talk about Skee-Ball 2.