We have a special place in our hearts for the developer Ponos, who consistently releases quirky, humorous and fun titles to the iOS platform. Their latest release is Battle Cats (Free), a game featuring the Internet's favorite animal mixed with castle defense gameplay and one we thought was pretty darn good in our review. To celebrate this release, some older Ponos titles are currently available for free.
---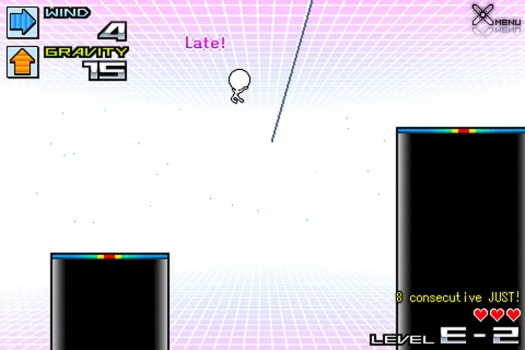 Mr.AahH!!, $0.99 – First up is Mr. AahH!!, a swinging platformer that released way back in 2009 and kicked off the whole "Mr." series of games from Ponos. It's a simple but challenging title that we really enjoyed in our original writeup of the game.
---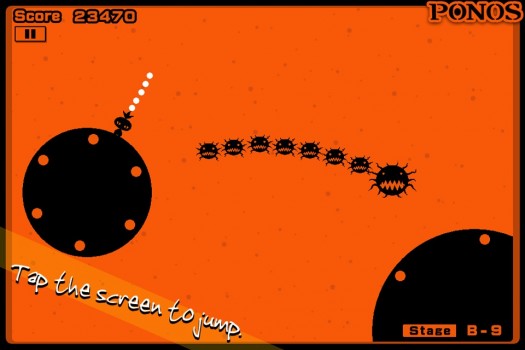 Mr.Ninja, $0.99 – Next up is Mr. Ninja, the third game in the "Mr." series. It's of the "jump from spinning planet to planet" variety of platformer, and it also has a striking visual style, featuring silhouettes that stand out sharply against bright orange backdrops. Mr. Ninja can also be quite challenging and also quite rewarding when you do well, and you can check out our review of the game for more.
---
Do Do EGG!, $0.99 – Finally, we have Do Do EGG!, which looks like your standard cutesy match-3 but is actually quite a different take on the matching game formula. We originally reviewed Do Do EGG! when it hit late last year, and while we were totally behind the interesting game mechanics we weren't too stoked that a lot of the different modes and levels were locked up behind either a paywall or some pretty difficult high-scoring requirements. Still, for your free download you still get a good taste of the game, and if you like it you can decide how much more you want to go after from there.
---
While you're going nuts downloading all these freebies, which includes their newest game Battle Cats which is free to download and try, I'd encourage you to take some of that money you just saved and consider Ponos' stellar puzzle titles. Puzzle Prism ($2.99) originally put them on the iOS map back in early 2009, and is a brilliant take on Tetris-style block clearing only in a three dimensional space. It really is an amazing game, though sadly Ponos has stopped updating and never took the idea and ran with it further. It's still an all-time great though, and maybe someday they'll pick it up again.
Their other puzzle game is called Puzzle Cosmos ($2.99), and in our review we described it as "If Tetris and Lumines Had a Kid, But One That Could Kick Your Ass." I think that's a fairly accurate description, personally. Unfortunately, Puzzle Cosmos has never really had any update love either, so it's devoid of any modern advancements. Again, though, it's a solid puzzle game and one you should add to your collection if you like unique puzzlers.
At any rate, free games are great, so download all these freebies before they jump back up in price.