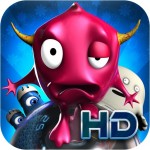 Back in late September we told you that Matmi's whacky, fast-paced pinball title Monster Pinball was getting a well-deserved HD makeover and Universal support in the form of a new app called Monster Pinball HD (Free), and that game is now available on the App Store.
The original Monster Pinball launched way back in May of 2009, and was among my favorite games of the time. It's ultra-fast physics and absolutely insane table designs (there is one that's literally a concave bowl) would make the hardcore pinball simulation enthusiast shudder, but that's also what made it so unique and fun. Monster Pinball was also noteworthy for its fantastic art direction, which to me always felt like the cheery world of Pixar met with the dark tones of Tim Burton.
All of this translates quite well to the new Monster Pinball HD. It looks fantastic on widescreen displays like the iPhone 5, and feels even more at home on the larger screens of the iPad mini and full-sized model, though it doesn't appear to be running at full Retina resolution on the iPad. You'd be pretty hard-pressed to tell though, as it still looks fantastic. Another neat addition is the ability to play in landscape orientation on the iPad, which feels much more comfortable to me.
Other big new features in Monster Pinball HD include Game Center integration for leaderboards and achievements, and the ability to unlock each of its 6 tables for individual play. Monster Pinball was always really unique for having 6 different tables that were interconnected, and it's a whole different experience playing them as individual tables. You'll need to complete a table unlocking mission for each of them before you can play them individually though, which isn't always so easy.
I'm having a total blast reliving my love for Monster Pinball in a modern package, and just hearing all the zany sound effects and music is taking me back to a time when I poured countless hours into this game. I'm already on pace to do so again, and I'm loving it. If you like pinball games, and aren't necessarily worried about realistic physics, then Monster Pinball HD will make your head spin… in a good way. Definitely give it a look, and stop by our forums to leave your thoughts.