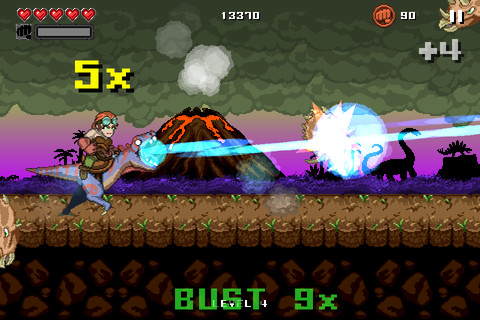 Hey everybody, here's the best games we reviewed in the month of October. Keep in mind you can view all of our 5 star and 4.5 star games via category sorting. Similarly, you can see all of these "best of" roundups by clicking the Best iPhone Games category. You'll find tons of good stuff in there, especially if you dig back into the archives a bit.
Additionally, if you haven't already, give the TouchArcade app [Free] a download. It's free, and you'll get push alerts when we post articles like these and other things related to five star games. Cool, right?
These games are all universal too, so if you're looking for something to figure up on your new iPad that's recent, look no further:
5 Stars
Girls Like Robots, $2.99 – [Review] – [Forum Thread] – Puzzle games are a dime a dozen on the App Store, but few are as masterfully executed as Adult Swim's Girls Like Robots. As its core, the game revolves around positioning tiles on a grid. The challenge comes from making everyone happy, as girls like robots but hate nerds. Nerds prefer to sit next to robots, and robots are OK with everything, being robots and all.
It sounds simple, and it is, to start. However, thing quickly ramp up with different scenarios, challenges, and even pie. Girls Like Robots is full of that signature Adult Swim humor as well, if you need another reason to push you over the edge of downloading it.
Need for Speedâ"¢ Most Wanted, $4.99 – [Review] – [Forum Thread] – An absolutely fantastic arcade racer that checks nearly every box in what I'm looking for out of a quick pick up and play arcade racing experience. The sensation of speed is great, the graphics are unreal, and the whole thing really shines on the widescreen of the iPhone 5.
There's 35 cars in all to unlock, some additional tweaks to work towards, varied event types, and tons of licensed music. If your tastes lie on the more simulation-oriented side of the street, hold tight for Real Racing 3. Otherwise, Need For Speed Most Wanted is a solid purchase.
Punch Quest, Free – [Review] – [Forum Thread] – Rocketcat and Madgarden are responsible for more than a few of my all-time favorite iOS games, so it's not really shocking that Punch Quest is as great as it is. It's a free to play game that, much to its financial detriment, is a little too free to play, but all that means is you're getting a seriously awesome game for free.
Punch Quest is an endless puncher, and the name of the game is seeing how far you can go and how many bad guys you can kill. There's tons of stuff to unlock between actual abilities you can use and superflous hats you can wear, so the "one more run" nature of the game has a greater purpose. Download this now.
4.5 Stars
Burrito Bison, $0.99 – [Review] – [Forum Thread] – "See how far you can go" launcher-style games are seeing a great resurgence in popularity on the App Store, and Burrito Bison is one of the better ones we've played recently. The premise is ridiculous, and involves you playing as a the Burrito Bison who has somehow been sucked into some gummy bear-filled alternate universe.
While that might not make a whole lot of sense, a cohesive upgrade system will keep you coming back for more as the next unlock always feels just a couple more runs away.
Devil's Attorney, $4.99 – [Review] – [Forum Thread] – This legal-themed game by 1337 Game Design is filled to the brim with high production values. The art style is great, the writing is hilarious, and complete voiceovers really make for a great overall atmosphere. Gameplay amounts to what almost feels like a card battler of sorts as you use various abilities to discredit witnesses, lawyers, and evidence in the courtroom.
An incredible skill upgrade system is also included that hinges around adding ridiculous furniture to your apartment as well as buying increasingly silly items for your wardrobe. Enjoyable from start to finish, Devil's Attorney is totally worth a look.
He-Man: The Most Powerful Game in the Universeâ"¢, $2.99 – [Review] – [Forum Thread] – If 80's nostalgia is what gets your motor running, look no further than He-Man: The Most Powerful Game in the Universe. I'm not entirely sure it'd be possible to pack more 80's into one game, and Chillingo has done admirably to bring everything that was silly about the show to the game.
Even areas that seem to be lacking (like in some of the animations) are the subject of jokes in game, and an upgrade system keeps you continually tricking out your He-Man with additional skills and abilities. You can buy these via IAP, but it feels exceedingly optional to do so.
The Last Express, $4.99 – [Review] – [Forum Thread] – Originally released in 1997, Jordan Mechner's masterpiece has aged incredibly gracefully and DotEmu did a fabulous job porting it to iOS devices. The game is set in 1914, just following the assassination of Archduke Ferdinand on the Orient Express with a plot worthy of a big-budget noir film.
Everything happens in the game in real time, so there's a shocking amount of replay value compared to other adventure games as you can go back and explore different areas to see things you might have missed the first time around. Definitely check it out if old school adventure games are your thing.
Letterpress – Word Game, Free – [Review] – [Forum Thread] – This incredible free to play word game has become so popular that it has actually overloaded Game Center, causing some surprising down time for the service. It's a turn-based word search with the goal being taking over an entire grid of available letters you can use for words. Super clever.
Oddly enough, the only areas the game is lacking in is as a direct result of Game Center's various shortcomings. So, with any luck, Apple will look at the success of Letterpress and its shortcomings for ways to improve.
Polara, $2.99 – [Review] – [Forum Thread] – Mixing up the runner formula with a color shifting mechanic, Polara borrows from lots of different games to make a title that truly feels whole. Most of the elements in game game have a color tied to them, and you need to be shifted to the right color in order to utilize them.
The level structure is story based, and the plot leans heavily on comic book style cut scenes, but that doesn't have an impact on just how much fun playing the game is.
Skyriders, $0.99 – [Review] – [Forum Thread] – This game also has a color shifting mechanic, but it all works in a totally different way. Skyriders is structured into these short, fast paced, and increasingly difficult races. The reaction time you need later in the game is insane.
The game itself is actually quite simple, in that you really only need to make it to the finish of each level, but that simple structure allows the game to throw some serious loops your way and doing well involves handling those obstacles with split-second precision.
True Skate, $1.99 – [Review] – [Forum Thread] – An incredible skateboarding game that utilizes touchscreen gestures to control a little skateboard. You buzz around a skatepark, doing grinds, crazy flips, and all sorts of other stuff.
The graphics are fantastoc, the framerate is out of this world, and True Skate feels like a technical wonder once you get over the (admittedly steep) wall of getting a hang of landing tricks. Once you do, this is easily one of the most impressive games to have other people watch you play.
Walking Dead: The Game, Free
[Review] – [Forum Thread] – I believe this is the third month we've featured Telltale's The Walking Dead in these roundups, and for good reason: It's one of the best adventure games we've played, and it gets stronger with each subsequent episode release.
The third installment takes the whole plot further, and has us absolutely chomping at the bit for four and five. It sucks that the iOS version lags behind the PC and console games as far as episode release dates are concerned, but the iPad definitely feels like the "right" way to play the game.
Wimp: Who Stole My Pants?, Free
[Review] – [Forum Thread] – One of the better platformers we've played lately, Wimp has an awesome art style, decent controls, and boss fights that are awesome. Each world introduces a new ability that further enhances the game, ranging from being able to stick to things to introducing Portal-like portals.
The various puzzles you come across will initially have you scratching you head, but all provide that fantastic "Aww yeah!" sense of accomplishment when you figure out what to do.