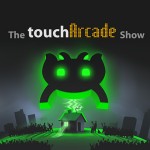 Less than an hour after Eli got off his plane from Korea, we gathered for this week's episode of The TouchArcade Show. At the top, we dive into why Eli went to Korea, touching on his talk about the importance of community engagement and how web sites like ours work. If you've ever wondered "whoa, how do I get my game on TouchArcade," you might want to give this a listen.
We also hit on some games. Adult Swim's Girls Like Robots leads off our section, while a skating game called True Skate closes it out. Of course, we also get to some front page: Angry Birds Star Wars, Jenga, and several other topics get discussed.
If you'd like to give us a listen, be our guest. You can use the links below, or hey, subscribe to us on iTunes or Zune. The latter method is the easiest way to get our new podcasts the second they hit the Internet.
iTunes Link: The TouchArcade Show
Zune Marketplace: TouchArcade.com Podcasts
RSS Feed: The TouchArcade Show
Direct Link: TouchArcadeShow-073.mp3, 28.7MB
And here are your show notes:
GAMES
FRONT PAGE