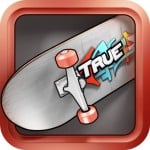 Today Brad and I get extreme as we risk broken bones and bruises to give you a hands-on look at the upcoming virtual skateboard game True Skate from Jet Car Stunts ($1.99) developer True Axis.
Yesterday we posted a gameplay video that the developer created, which was a great way to show how the game is controlled using your fingers like they were legs for your little virtual skateboard. In an effort to not block the filming, that video used just one finger to control the action, which is a totally viable way to play the game if you wish. However, True Skate supports multitouch inputs, and indeed some tricks are easier to pull off using two fingers.
Keep that in mind as you watch the following TA Plays where I spend way too much time dorking around the skatepark trying whatever my feeble brain can think of, and Brad shows his infatuation with the 900 and his severe lack of knowledge in the area of grip tape.
True Skate in its current state is basically done and ready to be submitted any day now, and once released there are plenty of ideas rattling around in the brains at True Axis for future updates to the game. Number one on my list is new environments, as I'm already starting to know the included skatepark like the back of my hand, but even as is True Skate is one of the more unique games I've ever come across. It's hard to describe just how much I've enjoyed my time with the game, and I think it's something that isn't completely clear until you actually get your hands on the game yourself.
Until then enjoy the TA Plays and be sure to chat up the game in our forums as True Skate moves towards a release sometime in the very near future.