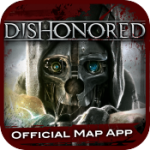 Getting lost to Arkane Studios' Dishonored is a problem. For example, instead of writing up this post immediately, we've been playing Dishonored. But getting lost in the game will never be a problem; Its official map app, which displays just about anything you could want, has us covered pretty well.
After grabbing it earlier this morning, Dishonored Official Map App ($2.99) is proving to be a solid companion piece. It has layouts for every level in the game and lists everything that can be collected. As the user, you can also cross off what items you've picked up, so things don't get too messy.
Dishonored, in case you've been hiding in a cave, is a gritty first-person stealth-action game set in a gorgeous steampunk world. It's out now across Xbox 360, PS3, and PC.