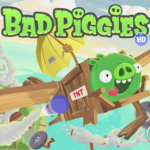 This afternoon Brad and I sat down with Rovio's upcoming Bad Piggies. It's due out tomorrow, and the way Rovio handles releases typically involves pulling the switch worldwide around midnight Pacific. We'll have to wait and see if this is the case with Bad Piggies. Anyway, the name of the game in Bad Piggies is building various contraptions to gather back the pieces of your grand plan to steal eggs from the Angry Birds.
We start things out with the first level, which shows the very basic gist of the game then immediately jump in to some more challenging levels later in the game before utterly failing at the star-gathering sandbox mode. So far, I like it a lot. It takes the Angry Birds franchise in a direction I'm not sure anyone was expecting with a really clever spin on the "contraption building" genre. Take a look:
As soon as we spot some actual live iTunes links for Bad Piggies, we'll post 'em!