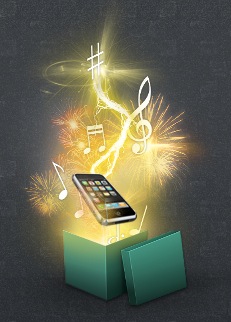 Gaming bundles are all the rage lately, and I'm pretty sure I've bought at least 3 or 4 copies of many top games trying to "collect 'em all." It's all good though, these bundle promotions typically go towards a good cause, are a good deal overall, and offer a selection of some astounding games.
Or, sometimes, gaming soundtracks. We've seen gaming bundles feature iOS games, or include an iOS gaming soundtrack or two, but currently there is what I believe to be the first bundle to focus almost exclusively on iOS soundtracks, appropriately called the iGame Music Bundle. Hey, just because they're mobile games doesn't mean they don't also have outstanding soundtracks, right?
So here's the deal. If you head over to the iGame Music Bundle website and throw down the minimum of $1 you'll receive the soundtracks to these 5 iOS titles:
Not a bad haul, for a buck or more. If you bump up your contibution to at least the $10 mark, then the rewards increase significantly, and you'll receive the soundtracks to the following games:
The inclusion of the Contingency album is actually a bonus addition, and as of this writing there's about 600 sales needed to unlock the soundtrack to Godzi Lab's Happy Street (Free) as well. There's 2 more blank spots too, so it's possible there's more waiting to be unlocked if further sales goals are met.
That is quite a bit of music for one dollar, and a whole heaping truckload of music for ten dollars. Also, as with most bundles, there's various bonuses and special collector's items you can earn based on your donation amount. If you're a video game music fan, even just a little bit, the iGame Music Bundle is definitely something you should check out, and it'll be available for the next 8 days or so.