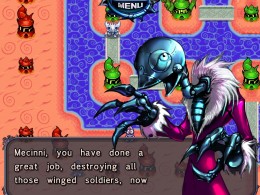 There hasn't quite been any turn-based strategy titles on iOS that have approached the level of the brilliant Advance Wars series, but I'd argue that Luc Bernard's Mecho Wars ($0.99) has come the closest. It keeps the mechanics simple enough with a rock-paper-scissors style battle system using various types of ground and air units. It's easy enough for anyone to pick up on, but the real strategy of play is in the different map designs and the day-to-night cycle that would cause water to freeze solid and completely change the dynamic of a fight.
That was way back in 2009 when the first Mecho Wars made waves, and at long last Luc Bernard is ready to show off a proper sequel titled Mecho Wars: Desert Ashes. He had been teasing the title since last year, with a launch scheduled for this past December. As game development goes, that didn't quite pan out, but the extra time spent on the game looks to have paid off. Right off the bat you'll notice that the unique art style of the first game has been greatly expanded upon, with more complex character art and animations that give the game a really interesting look, with full HD support. Check out the trailer.
Mecho Wars: Desert Ashes will also feature online multiplayer like the first game, but it will be cross platform across iOS, PC, Mac and Android. Your online commander role will have a perk system and you'll be able to level up and use various perks the more you play online. In a thoughtful design choice, you'll also be able to jump into the single-player campaign easily while waiting for people to join your online games so you're not just sitting there twiddling your thumbs.
Mecho Wars: Desert Ashes looks like a great improvement over the original, expanding and improving on all the things that made it great. And as an added perk the entire original game will be included with this one for free, just for fun. No word on just when we'll be able to get our hands on Mecho Wars: Desert Ashes but we'll bring you any news just as soon as we get it. There's a whole bunch of new screenshots in the gallery below you can click through for a closer look as well.