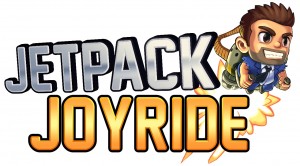 We've been following Halfbrick's upcoming effort Machine Gun Jetpack ever since we got our dirty hands on it at GDC this past March. We instantly fell in love with the gameplay that was built around one of Barry Steakfries' most infamous weapons from Monster Dash [99¢], the machine gun jetpack (duh). We've also posted a couple of developer diary videos that the team at Halfbrick has been filming during the creation of the game, giving some insight into their development process of Machine Gun Jetpack.
Except, it's not called Machine Gun Jetpack any longer. Remove that name from your mind, and say hello to Jetpack Joyride, the brand new moniker for Halbrick's brand new game. You might be thinking "why on Earth would they change the name of something that sounded so freaking awesome?", and at first I felt the same way. But after watching this following video, Halfbrick's own Phil Larsen and Luke Muscat put up a pretty strong argument as to why the name was changed.
Basically, the game has evolved so much over the past several months and there's now so much awesome stuff in there that it's no longer just about the machine gun jetpack, but rather a bunch of different and equally cool kinds of jetpacks, as well as tons of other crazy goodies. In short, Jetpack Joyride has evolved into a total gaming beast brimming with variety.
Since it's been nearly 6 months since we last got to hang with Phil from Halfbrick, it warms our hearts to see his bright, shining face in that video. Sure, we got to yap with him on a bonus TouchArcade Show podcast last month, but that doesn't come close to actually hanging out with the man – nay, the legend – in real, physical reality. Oh, also, Jetpack Joyride looks absolutely bonkers.
We've got the final product in our (still) dirty hands, and we'll give you a hands-on look at it later this week. This should properly whet your appetite for you to get your own (probably) dirty hands on the game on September 1st when Jetpack Joyride launches for 99¢ as a Universal app. Keep your eyes fixed on this space for our preview this week or drop by our forums to discuss the newly renamed Jetpack Joyride.