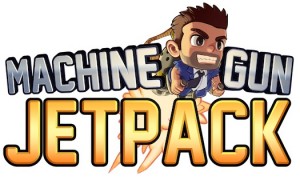 We've had our eye on Halfbrick's Machine Gun Jetpack for quite a while now. We got a glimpse of the game back at GDC and last month found out that it'll likely be hitting the App Store this August. We've even had Halfbrick's own Phil Larsen on an episode of The TouchArcade Show to discuss all things Halfbrick, including Machine Gun Jetpack.
Anyway, this latest video of the game entitled "Simple Awesomeness" does a marvelous job of exhibiting just how awesome Machine Gun Jetpack is going to be. It seems Halfbrick has just taken the cave flier formula, held it hostage in some kind of secret underground Australian bunker, and spent the last six months injecting various experimental performance boosting compounds into it. Lasers, energy beams, collectable coins that actually are used for things, oh baby.
Also, I'm just going to throw this out there, but I don't think it's too late for Halfbrick to either flat out change the protagonist in the game to Phil Larsen himself, or at least have Phil available as an unlockable character. I mean, Barry Steakfries was awesome in Monster Dash [99¢] and Age of Zombies [$2.99], but he's no Phil.
Needless to say, we're totally stoked for Machine Gun Jetpack and absolutely love Halfbrick's ability to take what amounts to a tired game type on the App Store and make it incredible. They did it with Age of Zombies and dual stick shooters, Monster Dash and endless runners, and I'm thinking they're going to go for a three-peat with Machine Gun Jetpack.
Sure, things could go horribly wrong, but Halfbrick has an amazing track record for great games on the App Store.