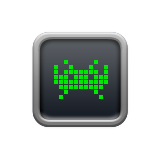 As we mentioned in January, we're bringing back our monthly "Best of" roundups. Unfortunately, late February and Early March were absolutely loaded with both GDC and PAX East which left us with little time left to do anything other than handle both events. To make things up, today we've got this awesome "Best of" extra large double feature, with both February and March games.
Our ratings for games we reviewed in both February and March are now in place, and we now present to you the ones that are on the top of the heap. Each game reviewed receives a 1-5 star rating relative to the other games from that month. Generally, a 3 or higher is considered a "good" rating.
Our final scores are not the product of any traditionally objective measures such as graphics or sound, but simply reflect the games we would most recommend to others.
5 Stars
Superbrothers: Sword&Sworcery, $3.99 - [Review] – [Forum Thread] – This is the closest thing to what we'd call a "system seller" of a video game since the iPad was originally released. Sword & Sworcery is an absolutely incredible experience, a thought that has not only been shared by the gaming press, but also the mainstream media as well. If you have an iPad and $5 to your name, there's no excuse not to spend it on this game.
Forget-Me-Not - GameClub, Free - [Review] – [Forum Thread] – In our review we called Forget-Me-Not the "retrolicious lovechild of PAC-MAN and Rogue," and I'm really struggling with a better way to describe the game. An amazing scoring system combines with fantastic retro graphics that only bolster how much fun Forget-Me-Not is to play. If the thought of PAC-MAN combined with dungeon crawling at all piques your interest, stop what you're doing and download Forget-Me-Not immediately.
Angry Birds Rio, Free - [Review] – [Forum Thread] – As easy as it is to groan at Angry Birds Rio getting a 5 star rating, it's a fantastic game. It obviously takes the original Angry Birds formula and builds on top of it with the Rio tie in, boss battles, and some spruced up interface elements. There's also a few extra layers of parallax scrolling that really make this version of Angry Birds look much better than the others as well.
Tiny Wings, $1.99 - [Review] – [Forum Thread] – It's not every day that Angry Birds gets knocked to the #2 position on the top sales charts, but Tiny Wings did it. It comes packed with delightfully simple single button gameplay that even kids could enjoy along with increasingly difficult goals that even hardcore gamers will find challenging. Get this game, now.
Battleheart, $2.99 - [Review] – [Forum Thread] – This single player game perfectly combines everything that's good about complex party-based realtime battles found in MMO-style games with wonderfully simple and intuitive touch controls. Multiple character classes are included, as well as equipment upgrades. It's incredible just how much flexibility there is for tweaking your party and how you play the game. Battleheart is fantastic on the iPhone, but you can't miss it if you own an iPad.
4.5 Stars
Fight Night Champion by EA Sportsâ"¢, $4.99 - [Review] – [Forum Thread] – A surprisingly competent boxing game that feels like an equal to its console counterpart instead of a typical watered-down mobile version. Great touch screen controls combine with different game modes to create a boxing experience that is among the best that the App Store has to offer.
Hot Springs Story, $0.99 - [Review] – [Forum Thread] – If you liked Game Dev Story, this is a game you need to download without hesitation. (If you haven't heard of Game Dev Story, play that first.) It features the same endless simulation style, only this time, focused around running a spa instead of your own video game company. Sure, the subject matter might not be as appealing, but everything that made GDS amazing is there (and then some).
Speedball 2 Evolution, $0.99 - [Review] – [Forum Thread] – This is a wonderful remake of the retro classic, complete with some great touch controls. If you haven't heard of the Speedball series of games, they're about the closest thing you can get to the old Mutant League Sports games on the Sega Genesis. If you have nostalgic ties to any of these franchises, or just enjoy crazy sports games, snag Speedball 2.
NBA JAM by EA SPORTSâ"¢, $4.99 - [Review] – [Forum Thread] – iOS gamers really couldn't ask for much more when it comes to EA's port of NBA Jam… Except for multiplayer, which is sorely missing. Regardless, all of the massive dunks and secret modes are intact, making this a surprisingly faithful port. EA even recently updated the game's roster, bringing it in line with this NBA season.
---
The rest of the game ratings can be seen in their respective rating categories (also found in the sidebar navigation): 5 Stars, 4.5 Stars, 4 Stars, 3.5 Stars, 3 Stars, and 2 Stars.
As always, we expect there will be some debate about relative scores, but keep in mind that everyone's personal ratings may vary based on individual tastes.