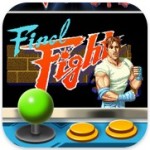 Last November Capcom released Capcom Arcade [Free], a slick little package that featured a selection of their classic arcade titles in one single app. Capcom Arcade uses an interesting monetary system where you get 3 free tickets per day, with each ticket being good for one play of any of the games. You can also purchase token packs as IAP, where tokens function just like tickets and are good for a single play, or you can purchase any of the arcade games outright for unlimited play. We liked Capcom Arcade in our review, noting that the virtual controls were about as good as can be expected and the performance of the games was pretty solid, though not perfect.
Capcom had promised to add additional arcade games to the package every month, and followed through by adding Street Fighter II Champion Edition in December and Ghosts 'n Goblins in January. The past two months, though, have not seen any new titles added to the game. Capcom is trying to make up for this with the latest update that hit this past Friday which adds two new games at once to Capcom Arcade. The first game is 1943, the vertically scrolling WWII shooter and the sequel to the already included 1942. 1943 seems to control and perform well, though it feels pretty dated compared to the vast array of shmup options in the App Store and is a fairly underwhelming addition.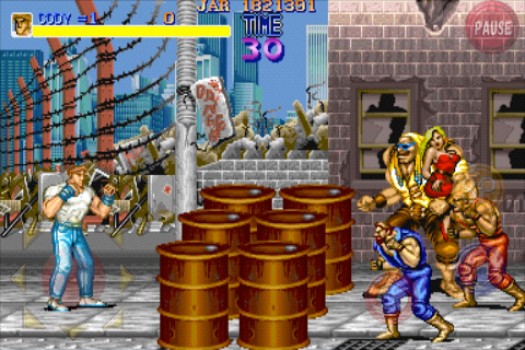 The real star of this update is the highly regarded beat 'em up Final Fight, so much so that Capcom has actually renamed Capcom Arcade to include Final Fight in the title. I absolutely loved Final Fight as a kid, and this version is pretty excellent. The virtual controls work just fine for the pace of the gameplay, with Capcom's familiar control stick for movement and a button each for attacking, jumping, and performing special moves. The performance is very good too, with only the occasional hitch in frame rate when many elements are on screen at once. The biggest disappointment I noticed is in the sound effects and music, which sound really tinny and lacked the "oomph" of the arcade cabinet.
Other than those small nit picks, I love having the full arcade version of Final Fight in my pocket at all times. Like the rest of the games in the package, it has options for rearranging the controls as you see fit and adjusting their opacity as well as the ability to choose a smaller screen for crisper graphics or stretching it to full screen. There's even a local Bluetooth multiplayer mode that lets you play through the campaign with a friend, which has always been the most fun way to enjoy Final Fight.
As an added bonus, Capcom is having a sale on the purchase of every arcade machine in the app, offering them for just 99¢ each until April 7th. If you have ever been a fan of arcade beat 'em ups at all, you owe it to yourself to at least download the free Capcom Arcade app and give Final Fight a try, not to mention the solid selection of other available titles. If you enjoy it, then they're an easy recommendation to pick up for 99¢ each during this sale.