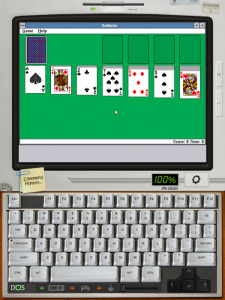 As mentioned in our post from this morning, the original iDOS fiasco last October was an incredible one. We constantly updated our initial post on the emulator throughout the day as we were more and more blown away by just how capable it was until Apple finally pulled the plug later that same day. Not long after, I reminisced on just how important iDOS was, hoping developers utilized the iDOS emulator framework to bring DOS classics to the iPhone.
As of today, iDOS is back, and free. The update text warns to "think thrice" before updating, as part of getting iDOS back on the store involved removing the iTunes functionality that allowed users to just drag and drop whatever executables they wanted within iDOS right in to iTunes to sync. You'd think that this would be the end of the iDOS saga, but forum member BoxOfSnoo informed us that the initial iDOS emulation rabbit hole is still there… It's just a little more complicated to get to.
Using the freeware utility iPhone Explorer, adding additional games to iDOS is as simple as browsing your apps in iPhone Explorer, opening the iDOS folder, and then dumping whatever files you want inside of the iDOS documents folder. These files will be available in iDOS, as /Apps/iDos/documents/ is the equivalent to C:\ inside of iDOS. This does not require you to be jailbroken.
What Apple's response will be to this discovery is anyone's guess. Technically speaking, I'm not entirely sure if iDOS is breaking any of the developer agreements since adding games is done entirely through an unsupported third party utility. Regardless, it seems that this version of iDOS is just as capable of the original version, just with a slightly different way for loading additional games on to it. If you haven't yet, you should really consider downloading iDOS. It's free and may not last long.
Oh, and of course, the thread on our forums for iDOS 2.0.1 is going wild again with people installing all kinds of crazy stuff on their iOS devices.