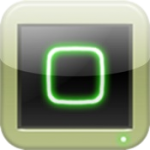 You may remember last October when a little app called iDOS snuck its way into the App Store. Every once in a while the review team at Apple falls asleep at the wheel and approves an app that probably shouldn't be allowed in the App Store. iDOS was one of those apps. It was a version of the DOSbox emulator that let you run DOS on your iOS device and load up all sorts of crazy old PC software.
Ah yes, I remember the iDOS day well. It was so much fun watching our article on iDOS constantly getting updated with whatever new feat of magic was discovered by the eager members in our forums. Many classic PC games ran incredibly well in iDOS, with full keyboard and mouse support, and the coup de grace was actually installing Microsoft Windows 3.0 on an iPad and playing the classic version of Solitaire included with it.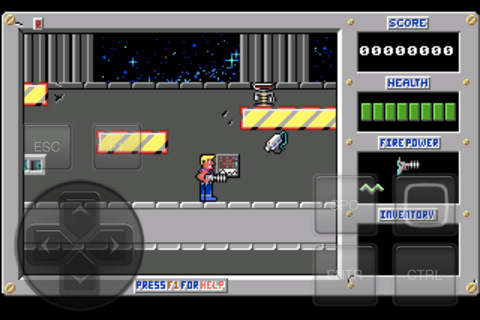 Like all good things though, the iDOS phenomenon quickly came to an end, and the app was removed from the App Store almost as suddenly as it appeared. Being able to load and run entire outside programs from within the iDOS app is a big no no according to Apple, and the thousands of people who had downloaded iDOS quickly backed up the app to their hard drives for safekeeping.
Then last night, iDOS surprisingly showed its face again in the App Store. In order to get it through the approval process, developer FAST Intelligence closed up the iTunes file sharing rabbit hole that was the gateway to loading whatever DOS programs you wanted, but has added some other nice functionality to try and compensate.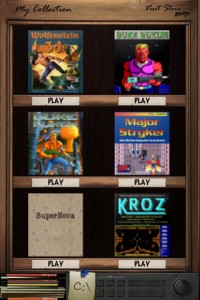 There are now 6 legal shareware games preloaded in iDOS which can be downloaded for free from the new "iDOS Store" within the app. The games can then be launched easily by selecting them from your collection, and no knowledge of DOS commands is necessary to get them going. For those that want to though, there is still access to the full DOS prompt for launching games.
Other additions include a full virtual joystick/d-pad and buttons rather than just a virtual keyboard, the ability to play on the iPhone/iPod touch in portrait mode just like the iPad, and Bluetooth keyboard support for text-based games. The virtual gamepad is actually really good, and makes playing games like Wolfenstein 3D a whole lot more enjoyable.
While it is pretty disappointing that you won't be able to go nuts running programs using the new iDOS, it's actually a pretty solid little emulator and still fun to play around with. Word on the street is that jailbroken devices can still load whatever games they want into this new version using file managing programs, but that doesn't seem very exciting to me since iDOS has been available as DosPad in the jailbreak App Store Cydia for a long time now, and offers that same functionality.
These screenshots show the new portrait mode gamepad controls for the iPad (left) and the iPhone (right). Click either image to enlarge.
If you missed out on iDOS the first time, it's still worth checking out this new version despite its limitations, especially as it's now free to download. Be warned though – if you have the original version of iDOS in your iTunes library, this new version is actually an update that will replace that one, so it's suggested that you back up the original app before downloading version 2.0. There's a brand new thread in our forums for discussing this rereleased version of iDOS, and hopefully this time Apple will let it stick around for longer than one day.
App Store Link: iDOS, Free (Universal)