Just a quick update here on one of my favorite iPhone developers, Peter Hirschberg, author of the retro-inspired Vector Tanks and Adventure [App Store], and owner of the Luna City Arcade which is, without a doubt, the most amazing arcade ever assembled (if his office isn't cool enough for you).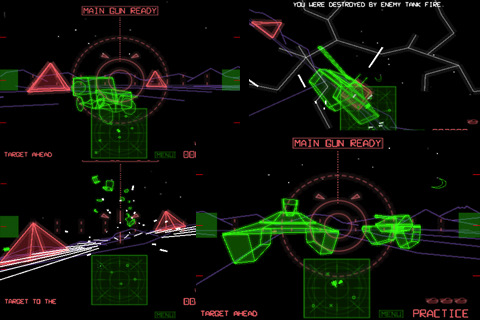 Peter has recently setup his own studio, BlipTime Studios, and through it has released an update to Vector Tanks known as Vector Tanks (Classic Version) [App Store] at $0.99.  As one might suspect, denoting the current game as "classic" indeed betokens the near-term arrival of a rather revamped take on the original, to be known as Vector Tanks Extreme. Peter is splitting the game into two versions to provide, as he tells it, a version that delivers the "retro-simplicity" of the original, along with a version that's "a Vector Tanks experience WAY over the top for those seeking a bit more of a challenge."
Vector Tanks (Classic Version) appeared in the App Store in mid-January, with a version 1.3.2 update that appeared last week.  The updated classic version delivers the following changes to the original Chillingo release, as Peter details:
New enemy tank added! The H6 "Heavy Sixer". Capable of driving directly over obstacles and having a fully turret-mounted cannon, this is a much more deadly foe than the regular tanks!
Big fixes in responsiveness of the controls!
Removed in-game music
Now publishing the game directly through my own game company, BlipTime Studios ™
Price reduction to $.99 (was $2.99)
Rebranded as Vector Tanks Classic
Unfortunately for owners of the original, published by Chillingo, the updated BlipTime Studios' classic version cannot be downloaded as a free update. As Peter explains,
…I apologize that there isn't a way to upgrade. I worked with Apple to try and establish and upgrade path for my current customers but the final answer from Apple was that once you change the account under which an app is published, it will always appear as a "new" app and upgrading is NOT possible. I sincerely apologize. I did try and I know it sort of stinks. My hope is that the reduced price will serve as a good-faith gesture to my current customers who wish to pick up this updated version of Vector Tanks.
…though Peter hints that, in celebration of the release of Vector Tanks Extreme (which is expected sometime this month), iPhone gamers might just get an opportunity to grab the classic version at a price that's a bit less than $0.99 for a week or so, to even the score on the Chillingo situation…
I've been playing a few early betas of Vector Tanks Extreme for some time now and, I must say, Peter's use of the term "bloodbath" to describe the gameplay of the new title is an apt one. This one demands some real dual-track savvy.
Peter indicates that both Vector Tanks (Classic Version) and Vector Tanks Extreme will run natively on the iPad when it makes its 1024×768-pixel debut. He's already got Extreme running in the Xcode iPad simulator and promises it looks "glowy gorgeous."
We plan to take a close look at Vector Tanks Extreme when it goes live in the App Store and share details of the formation of BlipTime Studios through an interview with Peter that will accompany the review. Stay tuned.
App Store Link: Vector Tanks (Classic Version), $0.99