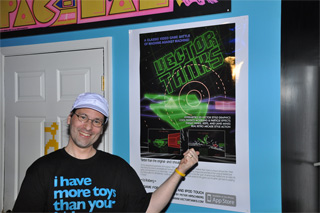 This past Saturday was an open "Game Day" at Peter Hirschberg's Luna City Arcade.  Peter is a devout retro gaming fan and is author of the iPhone port of Atari's Adventure [App Store] as well as Battlezone-like Vector Tanks [App Store].
The Luna City Arcade is a two-story, 60′ x 40′ building housing, presently, about 80 retro video games and pinball machines primarily from the late '70s and early '80s.  Peter has a Game Day every few months at the arcade, which is located about 70 miles west of Washington D.C.
This past weekend, I was lucky enough to attend the Game Day and gather some photos and video footage of the retro gaming goodness taking place as well as corner Peter for a few minutes to get his thoughts on retro gaming and a few details that went into the making of Adventure and Vector Tanks for the iPhone.
See the fun that was had in the only existing arcade of its kind, the Luna City Arcade.

[ Full HD version | Low Bandwidth version ]
After the jump, see our causal video interview of Peter, held in the loft above the arcade.
The video interview with Peter is divided into two ~10-minute parts.
Part 1:

[ Full HD version | Low Bandwidth version ]
Part 2:

[ Full HD version | Low Bandwidth version ]