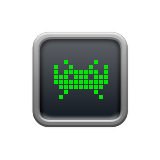 After a year and a half, TouchArcade is going to start doing something we've never done before: provide numeric ratings for our game reviews (though with a catch).
The absence of a rating system at TouchArcade has been a point of contention amongst some of our readers, but was not a decision that we had made lightly. A great number of issues arise with any rating system, the least of which is consistency over time. Rating scores can also blind readers to otherwise good games if they didn't get a near perfect score. There are many advantages, however, including the ability for readers to find the "best" games at a glance.
In an effort to bring the best of both worlds, we have decided to start rating games in bulk on a monthly basis and publishing a monthly "Best iPhone Games" column that recaps the best games from the preceding month.
Our rating system adopts a 5 star system like iTunes but also allows for 1/2 star ratings. Any rating of 3 or above is considered a good score. Individual game reviews, however, will not be rated until the end of the month. By rating games in bulk at the end of the month, we can also take into account longer term appeal and playability that can be hard to predict at the initial release.
September's "Best iPhone Games" are highlighted here:
5 Stars


Meteor Blitz – This is the best space shooter we've seen for the iPhone. It delivers 6 unlockable worlds with a good variety of enemies, perfect dual stick controls, and a lot of fun. The art and animation are top notch with all the flourishes you'd expect. (Review, App Store)


geoDefense Swarm – The original geoDefense was one of the most popular tower defense games on the App Store, and for good reason. geoDefense Swarm takes the same deliciously difficult gameplay combined with the familiar vectorized graphics of the original and evolves the game to an open field format. Both games in the series are among the best of what the genre has to offer. (Review, App Store)
4.5 Stars


Dungeon Hunter – a 3D hack and slash RPG. Featuring a ridiculous amount of character customization, loot of all kinds, and loads of quests to complete. While Dungeon Hunter is the perfect game for fans of the Diablo or Dungeon Siege series, the difficulty curve shouldn't be overwhelming for new players either. (Review, App Store)


Baseball Superstars 2010 – Not only a great baseball game, it is also packed with RPG elements that add an amazing amount of depth. Aside from playing standard games of baseball, both super batters and super pitchers can be leveled up in season modes. These characters can be customized in a number of ways, allowing for hours upon hours of gameplay with each character. (Review, App Store)


iBlast Moki – The goal is to get the Mokis from point A to point B through the use of bombs, ropes, balloons, wheels and more as you traverse through the 6 worlds and 70 levels. The overall quality of iBlast Moki as well as the inclusion of a level editor with sharable levels make this game really stand out. (Review, App Store)


Backbreaker Football – While there may be two "full" football games on the App Store, the gameplay found in Backbreaker is much more conducive to the play style of most iPhone gamers. Structured in a series of challenges players must evade defenders to score a touchdown. Single levels can be played in under a minute, and Endurance mode tests your skill in a 50 level non-stop touchdown marathon. (Review, App Store)
The rest of September game ratings can be seen in their respective rating categories (also found in the sidebar navigation): 5 Stars, 4.5 Stars, 4 Stars, 3.5 Stars, 3 Stars, 2.5 Stars, and 2 Stars.
As always, we expect there will be some debate about relative scores, but keep in mind that everyone's personal ratings may vary based on individual tastes.