Digital Chocolate has recently released 3D Rollercoaster Rush [App Store], a physics-based rollercoaster simulation of sorts, based on the studio's earlier, 2D title Rollercoaster Rush [App Store].
3D Rollercoaster Rush is a game that puts you in control of the fate of a rather overly-trusting group of riders who would probably have done well to have picked another, safer rollercoaster to get their thrillkicks.  You see, you are in control of the speed of said coaster (via accelerometer tilt) as it hurtles down its rather ambitious track layout — and the thing is, the coaster is free to fly from the track as physics may dictate.  It's a harrowing proposition, as it's up to you to keep the riders…alive. Similarly played iPhone games include Stunt Car Racing, Monster Trucks Nitro, and GI Joyride.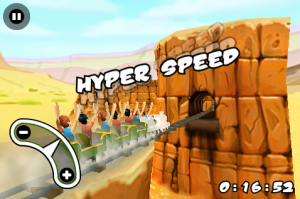 The game is fairly impressive visually, and really just boils down to leaping the crest of the tracks' various hills hill at the right velocity in order to land smoothly, as opposed to crashing out perpendicular to the track, which causes certain riders to fall or — in the worst case — a total crash of the coaster.
Features listed by the developer:
Two great games in one:

Career Mode – Play 40 different action-packed rollercoaster tracks in a Wild West theme park
Challenge Race Mode – Replay all 40 rollercoaster tracks to out race the game designer's time!

Expertly crafted tracks with realistic coaster physics
Stunning and detailed 3D graphics
Perform insane stunts to get a higher score!
Unique iPhone and iPod touch controls — users can use the accelerometer feature by tilting the device to make the carts go faster and slower.
Bright and stunning 3D art graphics
Adrenaline pumping and exciting real music!
3D Rollercoaster Rush is not the meatiest of games, being rather basic in its focus, but physics-gaming fans will enjoy it.  And, as a bonus, you can even race against the ghost of gaming gaming legend, EA-founder, and Digital Chocolate CEO Trip Hawkins.  (He was toast the first time we shared tracks…just saying…)
You can try the a free, lite version [App Store] for those wanting to test the waters before jumping in.
See the developer's gameplay video for a closer look.

[ Full HD version | Low Bandwidth version ]
App Store Link: 3D Rollercoaster Rush, $4.99, 3D Rollercoaster Rush FREE, free