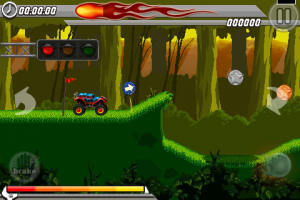 Digital Chocolate has released an iPhone version of its well reviewed mobile title Stunt Car Racing 99 Tracks [link] through the App Store.
Stunt Car Racing 99 Tracks is a physics-based jump-tilt-and-land racer with a gameplay mechanic similar to that of the "2.5D" iPhone titles GI Joyride and Monster Truck Nitro, but with much simpler 2D graphics that reveal its mobile handset origins.  Gameplay involves driving off-road vehicles through the various levels, riddled with jumps, pits, hazards, and the like.  Along the way, earn nitro boost by performing tricks (spins, wheelies, etc.) and picking up health to keep the damage meter at bay.
The game features on-screen button controls.  Up and down arrows allow for wheelies, mid-air 360 spins, and perfect, level landings.  A nitro button triggers a jolt of acceleration, and a brake button slows the vehicle for safe travel over hazardous surfaces.
See our gameplay video showing brief play in two different terrain settings.
[ Full HD version | Low Bandwidth version ]
Though the mobile original was well received, the iPhone version definitely feels like a port of a mobile title.
It's a decent bit of fun to play, but at $4.99, it's not the most compelling take on the formula in the App Store.  The game's App Store listing indicates a free version is on the way — readers not in love with the gameplay video may want to wait and try before they buy the full release.
App Store Link: Stunt Car Racing 99 Tracks, $4.99