RedLynx Ltd's Monster Trucks Nitro [App Store], which we previewed earlier,  has appeared in the App Store at a price of $1.99.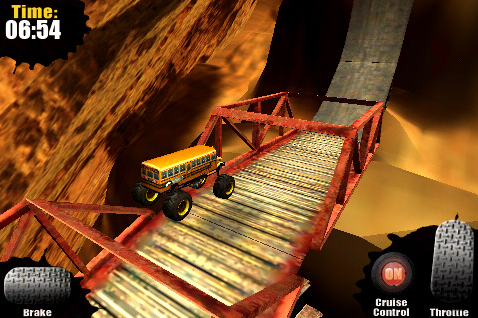 Features as listed by the developer:
Real Monster Trucks physics with iPhone
Unique Bubble Level rotation control
Includes multiple camera modes including Holographic Pro camera mode
Extremely powerful RedLynx Monster Truck and Miniclip monster Trucks
Extra achievement Trucks Schoolbus Monster Truck and Formula Monster Truck
8 thrilling tracks with medal achievements, including among others the famous ones like The Loop, The Gap and The Nitromus oximus
Top hiscores lists for each track
Gesture camera controls
The game is being discussed in a lengthy thread in our forums in which the game has been met with mixed reviews and complaints of a short playtime, with some users having framerate issues.  Forum member Big_Albie gives his critique of the game, which reveals some of the complains readers are finding with the title.
App Store Link: Monster Trucks Nitro, $1.99