There has been a lot of Breakout news in the iPhone gaming scene of late.
First, Atari's legal team started going after Breakout clones in the App Store.  Days later Atari released Super Breakout [App Store] for the iPhone, giving the platform an official version of the company's 1976 classic brick breaking game.  Just two days later Gameloft, who brought us Asphalt 4 and Real Football (Soccer) 2009, released an iPhone port of their mobile title Block Breaker Deluxe 2 [App Store].
Both of these titles are highly polished and provide a rather lavish Breakout experience.  We thought readers might appreciate a look at both to help determine where to spend their dollars.  We've prepared a back-and-forth video comparison that should convey the overall feel of both games.
Before looking at each title, a quick word about "Breakout clones."  These games and any such games made in the last 20 years are actually Arkanoid clones.  Arkanoid, released by Taito in 1986, took the Breakout formula to the next level by including various powerups and penalty items which dropped from the occasional destroyed brick as well as hugely improved graphics and more varied level layout.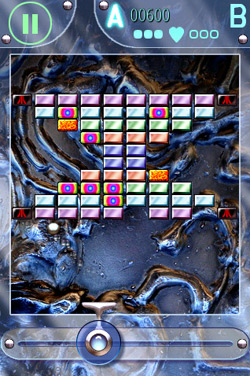 Atari's Super Breakout
Straight away, Atari's Super Breakout wins the battle for the truly retro inclined, as it features a Classic mode which looks and plays like the 1976 original.  The core of the game, however, is the much more widely appealing Super mode.
Super mode offers two play scenarios: Normal and Progressive.  Both start the player off in an underwater world and move the player, via unlocked areas, through other environments such as wood, mountain, flame, etc., each with its own set of backdrops and ball effects. In Progressive mode, the bricks advance downward toward the player's paddle, Space Invaders style, while Normal mode features stationary bricks.
Gameplay is straightforward and very Arkanoid-like.  Destroy bricks by deflecting a ball with the paddle which is controlled by sliding a finger left / right along the bottom of the screen.  Powerups drop from certain brick eliminations and some bricks are indestructible.  In a bit of a twist, certain portions of the background scenery will deflect the ball when hit right.  Players can choose between the game's own soundtrack (a relaxing "new age" collection) or tracks from his or her own music library.
Super Breakout allows a photo from the iPhone's photo library to be used as the playfield backdrop.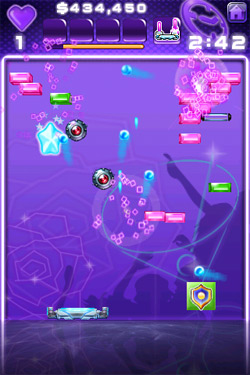 Gameloft's Block Breaker Deluxe 2
Block Breaker Deluxe 2 is Gameloft's iPhone port of its mobile title which is available for a wide variety of platforms.  Block Breaker veers much farther afield from the basic Arkanoid formula than does Atari's offering.  All of the standard components are present–a player controlled paddle at the bottom of the screen, powerups dropping from eliminated bricks, etc.–but Block Breaker offers much more, as well.
The game is divided into eight different locales on a paradise island.  Each locale contains eight levels, the completion of which unlocks the next locale, each with its own look.  Block Breaker's onscreen action is frantic.  Once the ball starts knocking out bricks, it's basically a hail of powerups, stars, and cash sliding down the screen.  Stars and cash can be used in the island's Shop to upgrade the paddle.  A finger tap on any of these falling items as they descend adds them to your arsenal.  Some powerups are quite unusual, such as "yoyo," which tethers the ball to the paddle with an elastic string, a shield powerup that temporarily prevents the loss of a missed ball, and a finger-controller guided missile.  The entire layout of bricks can transform based on certain prize eliminations.  It's actually hard at times to keep one's eye on the ball.  Certain "boss" levels don't involve bricks at all, but require the elimination of various moving objects as can be seen in the comparison video.
The default paddle control method is a left / right swipe at the bottom of the screen, as with Super Breakout.  A Gravity Mode, accessed in the game's options, allows tilt control of the paddle.  In this mode, bricks can be arranged to a certain degree with a tilt, and when only a few bricks are left onscreen, a quick upward jab with the iPhone will "throw" the ball at the bricks.
A nice feature of Block Breaker is the support for multiplayer games.  In this mode, the one-player paddle is mirrored at the top of the screen and two opponents can battle their way through the levels on the same device.  This can also be a fun challenge for a single player engaging in a two-handed game.
Block Breaker is set to a high quality, pounding techno-esque soundtrack.
And the winner is…
Both of these titles are high quality takes on a popular formula and offer attractive visuals and enjoyable gameplay.  But Block Breaker Deluxe 2 is much "more" of a game than Super Breakout, offering more lively onscreen action, more varied and interesting powerups, and allowing for multiplayer game sessions.  That said, Block Breaker's gameplay may veer too far from the standard Arkanoid formula for some people's liking; Super Breakout is definitely the more "traditional" title.  We hope our comparison video will help in your decision making.
Fans of this genre should not overlook the various other Arkanoid clones in the App Store.  We posted a roundup of these games back in July, the best of which was Ikanoid [$0.99 App Store].
Game Details

Name:

Super Breakout (v1.0)

Price:

$4.99 [Buy]

Developer:

Atari

Size:

12.7 MB
Super Breakout from Atari offers a polished take on the Arkanoid formula, taking players through multiple environments with an element theme.  True retro fans may enjoy the Classic mode that brings true 1976 Breakout gameplay.
Game Details

Name:

Block Breaker Deluxe 2 (v1.0.3)

Price:

$4.99 [Buy]

Developer:

Gameloft

Size:

49.2 MB
Block Breaker Deluxe 2 takes the Arkanoid formula to the next level with a wide array of powerups and a cash system for purchasing paddle upgrades. Its onscreen action is more frantic than the typical brick breaker. Multiplayer support allows two people to compete on the same device.