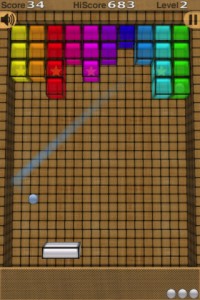 It appears that Atari's legal team has kicked into action and is demanding the removal of at least three iPhone games, and likely more.
iPhone developer Bootant had posted yesterday in our forums that Atari had requested the removal of BreakClassic [App Store] and BreakTouch 3D [App Store].
As it turns out, Spiffyware, the developer of Super Pong 2 [App Store] has also been asked to remove their app.
Some very unfortunate news, I have been asked to remove SuperPong 2 from the App Store at the request of Atari Interactive due to infringements against the pong and breakout copyrights.
Student developer Noah Witherspoon ran across a similar issue when his popular Tris game had to be pulled due to a copyright claim made by the Tetris company.
In the case of Witherspoon and Spiffyware, both are student developers who do not have the resources to mount a legal battle, and they have both expressed some doubts about the legal scope of these demands.
Update: Gyrocade's 3D Vector Pong [App Store] has also been contacted by Atari. The developer's solution appears to simply be renaming 3D Vector Pong to 3D Vector Ball. Though no official response from Atari has yet acknowledged this change as sufficient.