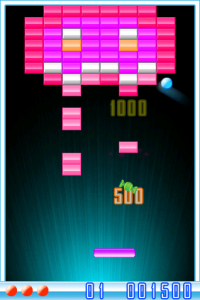 In July, Touch Arcade reviewed all the available Arkanoid / Breakout games on the iPhone and concluded that Ikanoid [App Store] was the best of the bunch.
With it's responsiveness, great sound effects and arcade feel, we felt it was the best Arkanoid version at the time — by a wide margin. It appears the only issues we had with the game have been addressed in subsequent versions. Now at version 1.4, new features since our original review include:
Global high scores
Ability to start at any level you've already made it to
Background music, volume controls
On top of all these features, Ikanoid has dropped in price from $2.99 to $0.99. It was a good deal at the time, and an even better deal now. Our original review also provides a gameplay video.