Category Archives:
GDC 2016
Earlier this week we hosted a small get-together for all of our Patreon backers who might also be in San Francisco this week. Jared and I are rarely ever in the same place, so it was really cool to hang out and hang out with all the people backing us on Patreon.
It's worth saying again, you guys are all awesome and it's really cool to hang out with fans of the site. Oh, and a special shout out to Andy, a reader/backer of our site who was buying drinks left and right for everyone who showed up. Thanks for making the meetup so great. Anyway, if you're interested in joining the happy family of TouchArcade readers who love the site enough to toss even a buck a month our way to keep things running, head over to our Patreon.
..
Heroes of Skyrealm, the upcoming game from Machanist Games is looking pretty good. The video below, taken from an iPad Pro really shows off the texture and 3D effects well and walks through some of the basics of the game. The game itself is a Clash of Clans type mashed up with a dungeon crawler with a Skylanders-like hero collection system mixed in. The characters themselves are really well crafted and animated and the dungeon crawler core gameplay seems to be quite good...
Eisenhorn: Xenos is the newest game in the Warhammer 40K world. We've talked about this game before, but finally got to see it in the flesh and lots and lots of blood. This third person action game that is much more than just an action game is looking amazingly lush. Unlike other Warhammer games, this one focuses more on the battle yet it still doesn't forsake the strategy element. ..
The Frostrune from Norwegian game developer Grimnir is a point and click adventure game that is rich in Viking history. Starting the game, the player finds themselves shipwrecked with a small building in the distance. Richly illustrated, the game has been in development since 2014 and should released late this year. Take a look at the video below to get an idea of how great the game looks...
Egg! is the tamagotchi style game from the well funded Nix Hydra Games in Los Angeles. In Egg! the players raise an egg from the point it is laid to when it hatches. The egg itself will be demanding and annoying at times, just like a tamagotchi should. It may require washing, feeding, or want to play a game. And the choices of what is done and when will change the personality graph and determine what type of character hatches from the egg...
The accessibility of game development has made it almost anyone who is interested in making a game can just download the (typically totally free) tools and just go nuts building whatever they feel like doing. That's exactly what Nicole Stark, her husband, and their four daughters have done with the upcoming Ninja Pizza Girl, a surprisingly slick cyberpunk runner with the ultimate goal of... Well, delivering pizzas, of course. Check out the gameplay video:..
Raw Fury announced recently that they are bringing their Steam hit game Kingdom to mobile. Developed by Noio, Kingdom is a 2D simulation of a king or queen building out a new kingdom from scratch. Starting off by building the center of the base, recruiting troops, and assigning them rolls by building the proper tool for their role. The simple controls lead to easy game play yet each day becomes incredibly more difficult requiring that defenses be built up constantly to counter the increasingly difficult nightly attacks...
Living in this post-Hearthstone world, it's evident that people are hungry for collectable card games. Star Crusade aims to take a bite out of that market with a surprisingly cool new game that feels a lot like existing CCG's while having a bunch of new interesting thing that makes it totally worth paying attention to. For instance, the game has variable deck sizes and how many cards you've got in your deck impacts how much life you have in game. There's other neat twists which you can see in the gameplay video:..
Ticket to Earth from Robot Circus is an upcoming turn based RPG with an interesting twist of a new mash-up game mechanic. While it's still early in the development for Ticket to Earth, with the game is expected to launch late in the year, the early game play is there and it looks promising. In the game players have one or more players each given a two turns per round. Those turns can be used to gather along a single color tile on the floor or attack. The interesting and different part of the game is that it adds a little bit of a puzzle mode to the standard turn based gameplay. ..
As always, Bulkypix has a ton of games coming out in the near future, and I was able to go hands-on with some of them here at GDC this week. First up was the virtual reality version of Please, Don't Touch Anything [$4.99] which we enjoyed in our review and picked as our Game of the Week when it released last October. The game has been rebuilt entirely in 3D, and because it's in virtual reality you really get transported into the little room with the control panel that you must manipulate and unlock without destroying the entire planet. Most games I try in VR seem neat but it never really feels like the VR aspect adds anything to the experience, but that's not the case with Please, Don't Touch Anything in VR. You really feel like you're in the actual space and can look around the virtual room and manipulate objects like a notebook or a bulletin board in order to find clues on what you need to do next...
I've said many times before how platformers are my favorite genre, I literally have dozens of them on my phone at any given time. So I was pretty excited to check out Le Parker - Sous Chef Extraordinaire at GDC this week, a gorgeous upcoming platformer from developer Play Pretend. Legndary sous chef Parker makes the lightest dessert in the world, and in fact it's so light it literally floats in the air. An evil king swoops in and snatches the recipe, along with Parker's true love the Princess who had it in her possession. I think you see where this story is going. Parker sets off on a journey across 32 challenging levels to rescue the princess and his recipe...
GDC can at times bring out games that wouldn't surface otherwise. Today we saw a couple voxel art quick reflex games from Matt Meyers. The first of which is currently titled Flip Out and is a three lane avoidance game where jumping left and right while advancing forward are the only options. Choosing the correct jump direction to avoid pits, retracting knives, and shooting guards by is the key. Take a look at the gameplay below...
Creature Quest has been a bit of a weird game to follow, because it's made by Jon Van Caneghem, a guy with an extensive Wikipedia page filled with all the monumental things he did to evolve the world of PC strategy gaming. When you hear he's got a game coming, you're kind of expecting something in the same vein as Might and Magic. Instead, he's behind a free to play mobile game, which has seen some pretty vocal detractors. Well, we met up with Jon Van Caneghem at GDC, and got a look at what high-end gameplay looks like in the game with his own dream team of super high level characters:..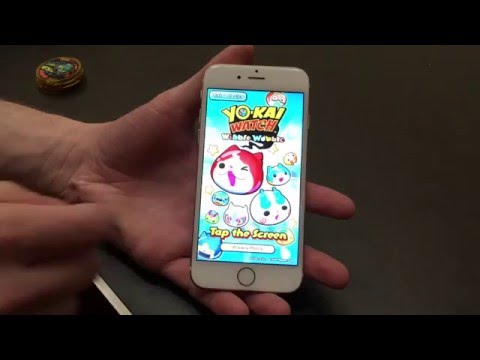 As someone who doesn't really follow things going on in the world of kids' entertainment or Japan, this morning's meeting was a bit of an eye-opener as I realized just how incredibly, ridiculously popular the Yo Kai Watch universe is. I guess the show is huge, the 3DS game is absolutely ripping it up, and the mobile port/spinoff Yo Kai Watch Wibble Wobble is just killing it on the Japanese App Store. Here's what it looks like in motion:..